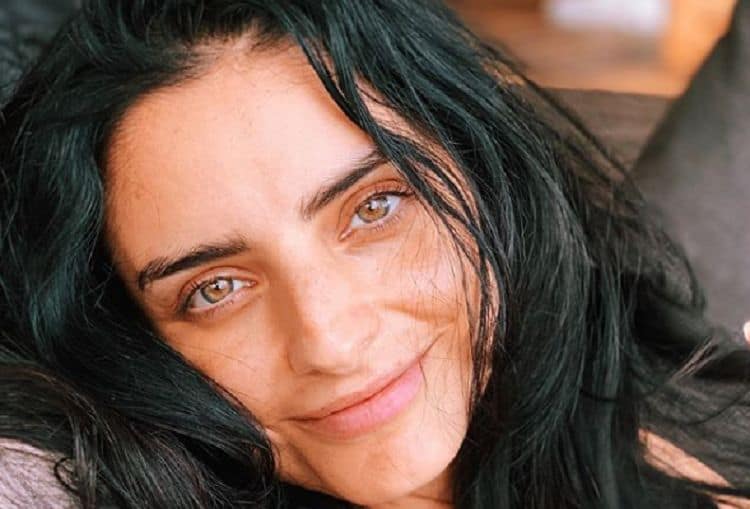 Mexican actress Aislinn Derbez might once have been better known as the daughter of actor Eugenio Derbez, but over the past few years, she's emerged from her famous father's shadow to become one of the leading Mexican stars of her generation. Currently starring in Netflix's The House of Flowers, Derbez's star is most definitely in the ascendant. Find out more with these 10 fast facts.
1. Acting's in her blood
Considering who her parents are, it's little wonder Aislinn chose to make her fortune in acting. The actress was born on 18 March 1987 in Mexico City to actress Gabriela Michel (best known for Madres egoístas (1991), Mujer, casos de la vida real (1985) and Papá soltero (1987)) and actor, comedian, and filmmaker Eugenio Derbez, the director, star, and writer of Instructions Not Included, the highest-grossing Spanish language film ever made. Derbez is also responsible for some of the most successful Spanish language TV shows of all time, including Al Derecho y Al Derbez, Derbez en cuando, XHDRBZ, Vecinos and La familia P. Luche. Coincidentally, Eugenio can claim some pretty starry lineage himself: his mother is Silvia Derbez, a Mexican film and TV star who became one of the country's most popular celebrities in the 1950s.
2. She's got famous siblings
Aislinn isn't the only one of Eugenio Derbez's brood to follow his footsteps into showbiz. Competing alongside Aislinn to become the biggest Derbez of all are her younger brothers Vadhir Derbez González Torres, an actor and musician best known for Gossip Girl: Acapulco (2013), Sense8 (2016), and How to Be a Latin Lover (2017), and José Eduardo González Martínez Del Río, best known for Qué pobres tan ricos (2013-2014), Amores con trampa (2015), and Vino el amor (2016).
3. She's got a degree in Visual Arts
In 2006, Aislinn moved to New York to study at the School of Visual Arts in New York City. After studying visual arts, writing, and photography, she graduated with a degree in Visual Arts in 2009.
4. She married Mauricio Ochmann in 2016
After she met fellow actor Mauricio Ochmann on the set of A La Mala in 2014, the pair began dating. 2 years later, they made things official at a glitzy wedding at El Tepozteco. On 27 February 2018, the couple welcomed their first child, a daughter named Kailani Ochmann.
5. She found motherhood hard
When Aislinn had her daughter in 2018, she initially struggled with the transition. "It wasn't easy for me because emotionally I didn't feel stable. I had a bit of a temper," she told HOLA! USA. "More than postpartum depression, I think all women go through unbalanced periods that can be overwhelming. We women are used to covering up when we are sad or angry." It was her husband who eventually recognized his wife was struggling to cope, and stepped in to help. "We had a marital and family crisis, but we coped well. I realized that Aislinn was stuck," Mauricio told the magazine. "Between her old dynamic with her family and her new dynamic as a mother and wife, she was trying to rearrange things in her life."
6. She split with her husband in March
In March this year, Aislinn announced the sad news that she and husband Mauricio were separating. Saying at the time they still loved each other but had become more like siblings than man and wife, she recently opened up further about the reason for the split on her new podcast, "The Magic of Chaos". "Always, since Mauricio and I met, communication always failed us, as it was a little difficult, we thought in very different ways, we had a hard time flowing, because it is as if he spoke one language and I spoke another language," she revealed.
7. She had a drinking problem
During a conversation with her brother José Eduardo on his social media channel, Aislinn confessed that from the age of 18 to 25, she went through a period of heavy drinking. "I experienced a period of drinking between the ages of 18 and about 24 or 25. When I would drink, I would drink. I wouldn't drink because I liked it, I would drink to get wasted," she revealed. She eventually quit for good after one particularly heavy night saw her end up in hospital. "I began to feel a numbing sensation throughout my body, my hands began to go numb, I got cold sweats and said 'I'm going to die, I'm going to faint,'" she said. "I fainted while out, they wanted to take me to the hospital, but I told them no. I couldn't go out, I couldn't walk – that's why I don't drink."
8. She's stepping back from social media
If you've got used to getting all your update's on Aislinn's life straight from the horse's mouth, get ready to be disappointed. After sharing a cute snap of her daughter alongside her 5-year-old sister, Aitana, with her Instagram followers, Aislinn revealed she'd be using her time in lockdown to distance herself from social media. "By the way, I think during this quarantine I will also disconnect from social media for some time…detox and reset from everything," she shared.
9. She hated modeling
Before she started pulling in ever bigger acting roles, Aislinn supplemented her income with modeling jobs, appearing on various magazine covers in her native Mexico. Since she entered the big time, modeling has taken a backseat… something that, if her interview with Rama's Screen is anything to go by, she's only too happy with. "I used to model when I was little," she said. "But it's not something I really like."
10. She moved to LA in 2016
Aislinn made her acting debut in 2008 in the short film Served Cold. Over the next few years, she appeared in a score of Mexican TV shows and films, including such hits as No se aceptan devoluciones (2013), A la mala (2015), Estar o no estar (2015), and Compadres (2016). Having made her name in Mexico, 2016 was the year she decided to make the move to Hollywood. Since moving to LA, she's starred in several hits, including Win It All (2017), Miss Bala (2019), Easy (2016 — 2017), and most recently, The House of Flowers (2018 — present).