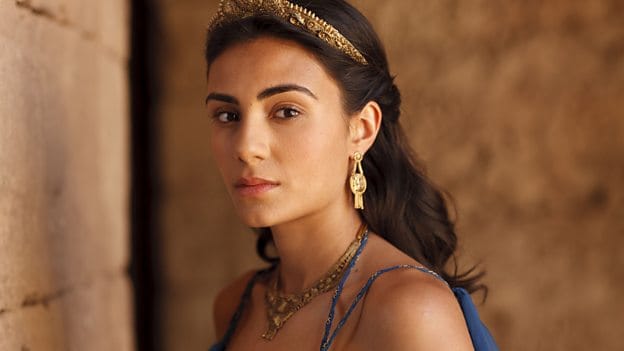 Getting a main role is something that can take even the most talented actors years to achieve. However, Aiysha Hart came on the scene ready to take things over. In 2013, she made her on screen debut in the film, Djinn. That same year, she was cast in her first main role as Ariadne  in the TV show Atlantis.  Since then, Aiysha has gone on to earn a few more main roles, and it's becoming clearer and clearer that she has an immense amount of talent. Although she only has a handful of acting credits to her name, she is showing the world that sometimes quality really is better than quantity. Continue reading for 10 things you didn't know about Aiysha Hart.
1. She Has A Diverse Background
Aiysha was born in England to a British mother and a Saudi Arabian father. She spent her early years living in Saudi Arabia and has fond memories of her childhood there. She moved to England when she was about three years old. Aiysha speaks Arabic, although not quite fluently, and visits Saudi Arabia often.
2. She Studied Literature
Education has always been important to Aiysha. Despite being interested in acting, she decided to study something else during her time in college. She attended King's College London where she earned a degree in literature. However, she did minor in film. After graduating from Kings College, she studied acting at Drama Studio London.
3. She Was Bullied In School
When Aiysha first moved to England, she struggled to fit in at school. She told Vogue, "I didn't fit into any of the boxes. I was one of the few non-white girls, which wasn't something I had thought about until other children pointed it out to me. The girls would never play with me or let me be involved in their games, so I'd often just sit alone."
4. She Wanted To Work In The Legal Field
Being an actress was always Aiysha's dream, but it didn't always seem attainable. Instead of getting into acting, she was originally planning on going into the legal field. She is particularly interested in Sharia law and wanted to help fight for the rights of women in Saudi Arabia.
5. She's A Feminist
Aiysha never became a lawyer, but now that she has a big platform, she hopes to continue to fight for women's rights and other causes that are important to her. She proudly considers herself a feminist and says "I hope that all women would be feminists because not to be a feminist is to limit your own choices and possibilities. It's important we're not judged for those choices: women get so much stick, some of which is from other women."
6. Her Loved Ones Keep Her Grounded
We've all heard stories about people who get caught up in the Hollywood lifestyle and find themselves spiraling out of control. Many times, these people lack a strong support system to help them stay grounded. Fortunately, Aiysha has a close knit group of friends and family who are able to keep her focused on what's really important.
7. She Takes Her Responsibility As A Role Model Very Seriously
Whether celebrities like it or not, there are lots of people who consider them role models. There are many people who push against this and prefer that people don't look up to them. Aiysha, on the other hand, takes this responsibility very seriously. She understands that there are lots of people — especially young women — who look up to her, and she is very mindful of setting a good example.
8. She Likes Challenging Roles
Aiysha isn't the type of actress who wants to play roles inside her comfort zone. In fact, she is hoping to do the exact opposite. She hopes that her career will give her lots of opportunities to play characters who challenge her. Even though TV and films are largely about entertainment, she wants her work to provide more than just entertainment value.
9. She Considers Yara Shahidi
When most people are asked about their heroes, they name someone who came before them. However, Aiysha has found a heroine in someone who is more than 10 years younger than her. She told Harper's Bazaar, ""For me, actor Yara Shahidi is the ultimate heroine of the new generation. For someone so young, she seems so wise beyond her years. I particularly love the way that she doesn't just present a glossy, superficial image to the world, rather she has something to say. She's intelligent, and she's sociopolitically galvanised."
10. She Started Acting At Age 7
Aiysha's path to becoming a professional actress may have been a little longer than most, but she's always had a passion for acting. She discovered her love for entertaining when she was just 7-years-old. Aiysha, who was a very shy child, says that acting helped her come out of her shell and gain more confidence in herself.