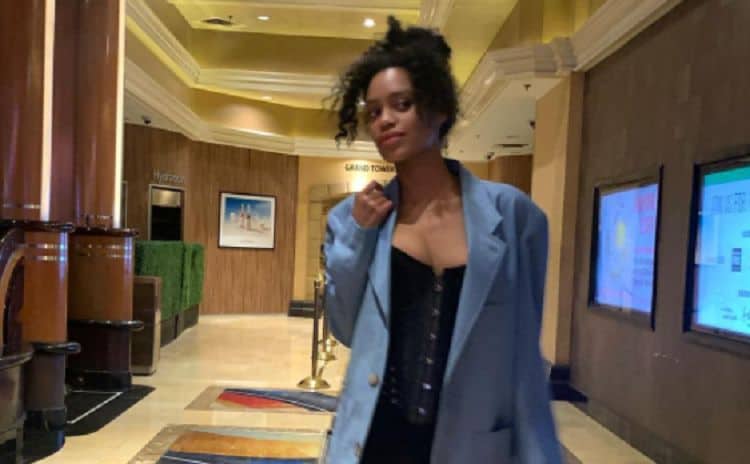 When Ajani Russel became friends with Nina Morin and Dede Lovelace in high school, she had no idea that those relationships would eventually lead her to a career in the entertainment industry. All three women are main cast members in the HBO series, Betty, and they've become role models for young female skaters everywhere. Like Indigo, her character in the show, Ajani also learned to skate through her friends, and she hasn't looked back since. As the show gears up for its second season, fans are looking forward to seeing what Indigo and the rest of the crew are up to. Continue reading to learn 10 things you didn't know about Ajani Russell.
1. She Wanted To Be A Scientist When She Was Younger
When Ajani was a kid, a career in the arts wasn't something she was thinking about. Instead, she was drawn to science and had a dream of becoming a scientist. Even though life has ultimately taken her on a completely different path, she's very happy with how things have turned out.
2. She Started A Publishing Company
Ajani is the type of person who's all about her business and she's already stepping into the world of entrepreneurship. She is one of the founders of Pinky Ring Publishing. The company is focused on publishing things that traditional publishing companies typically refuse. Like many other companies, Pinky Ring Publishing has had to make some adjustments during the pandemic, but they've started publishing things online.
3. She Is A Professional Model
Ajani's striking good looks are usually one of the first things people notice about her, and as you can imagine they've gotten her a lot of attention. She has been modeling for the last several years and has always gotten some great opportunities. She appeared on the cover of Vogue Italia in September of 2020.
4. She Is Passionate About Social Justice
As someone who has already build a large platform and is working on making it even bigger, Ajani understands the importance of using her voice. She is a strong supporter of the Black Lives Matter Movement and the fight to end racism and she often shares information and resources on social media.
5. She Is An Anime Fan
Everybody has at least one thing they like to do as a form of self-care, and Ajani is certainly no exception. After a long day, she loves to spend some time soaking in the tub, but there's something special she likes to do while she's in there. Ajani told W Magazine, "watching anime in the bath is my favorite thing to do."
6. Skating Helped Her Build Confidence
Like the other cast members in Betty, Ajani is actually a skater in real life. However, her skating journey started a little differently than some of the other women. She was actually introduced to skating by Nina and Dede and it quickly became something they all bonded over. More than that, learning how to skate helped her become a more confident person and made her more comfortable with taking risks.
7. She Is An Artist
Although she is originally from New york, Ajani has been living on the West Coast for the last few years studying art at California Institute of the Arts. Ajani thinks of herself as a visual artist and she works across several mediums including painting, sculpting, and printing.
8. She Loves Being Outdoors
Sometimes it really is the simple things in life that bring the most joy. When Ajani is busy working, she enjoys spending time outside. From hiking to swimming, she loves taking the time to appreciate the beauty of nature. Plus, there's nothing like fresh and peace and quiet to help get those creative juices flowing.
9. She Is All About Skincare
When you spend as much time in front of the camera as Ajani does, you definitely want to make sure your skin is on point. Taking good care of her skin is something that's very important to Ajani. Since she has dry skin, she has to pay extra attention to making sure her skin is moisturized. While talking to W Magazine she shared that she loves to have "a dewy, moisturized look."
10. She Loves Inspiring Others
As a woman of color, Ajani is no stranger to the feeling of being excluded from the main crowd. Through skating and her art, she hopes to inspire and empower others and she seems to be embracing her newfound role as a role model. So far, I think most people would agree that she's doing a great job.