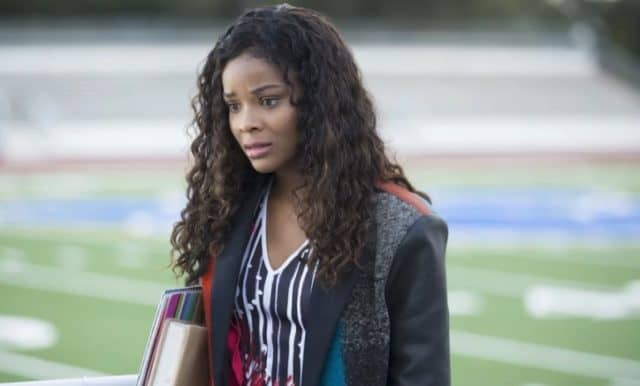 Actress Ajiona Alexus has quickly made a name for herself in the world of entertainment, and she does not appear to be slowing down anytime soon. She is back glossing up the Big Screen in her latest film, Breaking In, which also stars Gabrielle Union. The 22-year-old baby-faced actress is most noted for her work on Empire and 13 Reason's Why. She also had a brief role in the movie Acrimony that starred Taraji P. Henson. Why some of you are definitely aware of this young talented star, there is a whole lot that you don't know, so we decided to provide 10 fun facts that will help familiarize you with her.
1. She Also Has Music in Her Blood
There is no ignoring that this young lady has remarkable talent and promise as an actress, but she is also very gifted as a musician and vocalist. She comes from a musical family. In fact, Ajiona has just released a lyric video of her new single entitled "Baggage" that she is extremely excited about.
2. There is Obviously a Connection Between Ajiona and Taraji P. Henson
As it turns out, Ajiona obviously reminds producers and casting directors of Taraji P. Henson. The star has already played the role of a younger version of two of Henson's most notable roles in the movie Acrimony and on the television series Empire. We are all waiting for the two to work side-by-side.
https://www.instagram.com/p/BjEFTdvnA1c/?hl=en&taken-by=ajionaalexus
3. She Has a Scar that She is Proud Of
Being male, I can really relate this particular fact. When Ajiona was six, she fell a cut her elbow open. The wound required stitches and it left a scar. While somewhat self-conscious about it early on, she has grown to embrace it. She says that it is one of her favorite signature beauty marks.
4. Her Celebrity Look-Alikes
According Ajiona, she is often told by people that she reminds them of Rihanna or Janet Jackson. As you can imagine that gets her excited. She considers it an honor to be compared to those two in any type of way. Both Janet and Rihanna have influenced Ajiona in some form or another, so she is a huge fan of both.
5. She Has Multiple Tattoos
Tattoos can either make or break a career in Hollywood. There are certain people who were casted because of their tattoos and others who have struggled. Ajiona admits that she has a total of four tattoos. She has one on the back of her neck, one on the side of her rib cage and then one behind each ear. Fortunately, tattoos can be easily concealed these days.
6. She Is a Tomboy at Heart
Ajiona admits that the girly feminine look that everyone is becoming accustomed to wasn't always her. She admits that she grew up playing soccer and basketball as a young girl, and she is more than comfortable hitting the field or the court right now. We will see if maybe she ends up in "Love and Basketball II."
7. She Has Cute Little Routine
Ajiona says that she looks into the sky each night and she blows a kiss to the first star that she sees. In Los Angeles, this may be more difficult than it sounds. She says that she also makes a wish. Based on the trajectory of her career, these wishes must be coming true.
8. No Fractures
I find it interested that one fact that Ajiona believes is interesting about herself is that she has never broken a bone. I guess that you would have to know and understand how rough she was a tomboy early in life to appreciate this little know fact. Let's hope that she keeps this record intact.
9. She Is Committed
Not only is Ajiona talented, she is committed and she has an incredible work ethic. She revealed that she filmed 13 Reasons Why, Empire, and Acrimony all at the same time – flying to multiple cities throughout the process.
10. She is Secretly a Mermaid
Okay, I must admit that I am still attempting to get my head around this last one. Ajiona says that she is secretly a mermaid. She does not provide any clear explanation for the declaration, but I have learned to never doubt her, so I am just taking it all at face value.