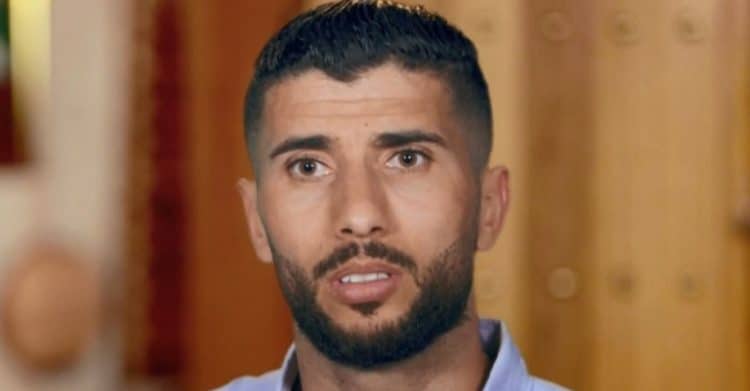 One captivating show that is gracing our screens is 90 Day Fiancé: The Other Way. It is a dating show where a group of American participants have to move across the globe to find and maintain love and draw their lovers from different parts of the world. Straight from Qatar is Tunisia-born Aladin Jallali. He hooked up with Laura from the USA, and their union drew much attention due to their vast age difference, with Laura being older than Jallali by almost twelve years. So who is Aladin? Where is he from, and what does he do? If you have such questions, you are in the right place as we take you down ten things you did not know about this participant in the dating show.
1. His Origins
From the show, Aladin Jallali puts his country of residence as Qatar. It is indisputable at first that it is his home country, mainly due to his Arabic heritage. However, Aladin is originally from Tunisia, and Qatar is just where he works presently. During his meeting and subsequent marriage to Laura, they made a stopover at Tunisia before going to Qatar, where he stays.
2. He Is A Fitness Coach
Aladin definitely has the looks, and this is one of the reasons that made Laura fall for him. He looks healthy has a nice body build and a height to top it up. All of these physical aspects of his body are evidence that he works as a fitness trainer according to Reality TV world. Apart from guiding his clients to having the best physical shape, he spares no effort on himself and tries to up his image by having a taste of his own medicine.
3. Other Side Ventures
According to The World News Daily, Jallali is capitalizing on his growing popularity and has started his own tours company. MC Travel Tours, as it is known, is under his ownership and an undisclosed Canadian connection. He made the announcement of his startup on Instagram, where he also markets it. The tour company banks on his exposure to Tunisia during Laura's visit, and the tours will be around his home country to begin. There have been positive responses from his followers on social media, with many expressing their interest to make a tour to the North African country to experience its scenery and culture. However, there is a concerned party that points to the recently released travel advisories by their home countries. Aladin is yet to respond to their concerns as at now.
4. Aladin's Relationships
There is not much known about his previous relationships, though, from the reality show, he was in a relationship with Laura from the USA. The two met on Facebook, where they stayed in touch for eight months before they met. Three days into their first meeting and wedding bells were heard! As they planned for their wedding, Laura expressed fears in their relationship not being too perfect. She pointed at Aladin Jallali's good looks and their age difference. There was also the cultural difference that was yet to sink in. Some months later, their fairy tale story crushed with a nasty break up.
5. His Fallout With Mrs. Jallali
Alladin and Laura consummated their union with a marriage. However, rifts in their union became evident, starting with accusations from each party involved. As from reports gathered from Soap Dirt suggest, Aladin blasted his former wife on lying so much. He points at various incidences such as a fake pregnancy and a doctored black eye. Laura, on the other hand, accused him of cheating and using her for his gains.
6. Gay Rumors
After the nasty breakup between Mr. and Mrs. Jallali, a lot of accusations flew from each of the opposing sides. Apart from the infidelity accusations thrown at him, Laura also claimed that Aladin Jallali was secretly into men. The accusation did not sit well with Aladin's fans as they bashed her for being so petty.
7. His Social Media Presence
The show, 90 Day Fiancé: The Other Way, has brought immense popularity to Aladin Jallali. The popularity garnered is evident from his social media pages, notably Instagram, where he has over 160k followers. He is quite friendly to his followers, who have immense support for him on the show and to whom he responds to in the comments demonstrating his friendly side. He launched his tours business on Instagram, where he also promotes it, with his fans showing him solidarity offering him advise him on how he can make it better.
8. The Green Card Accusation
As of now, you already know of the nasty breakup of the Jallali's. One accusation that seemed to gain momentum as the show began was that Aladin was in the show for the money and possibly to get a green card courtesy of their union with Laura. A focus point was Laura's age. He hit back at his bashers, claiming he supported himself, and he would do himself no honor by being dependent on a woman.
9. Life After The 90 Day Fiancé
After their fallout, it seems his fiancé quickly moved on even before the divorce. Aladin is yet to make his moves public, though it is known at the moment he is busy with his tour company.
10. Languages
Aladin Jallali is fluent in Arabic but fairly in English. He shared this sentiment in an interview with Reality Tea where he says he should have opted for an interpreter during his first days with Laura. Of late, he seems to have a proper grasp of the language, as witnessed in his social media posts.
Final Word
Aladin Jallali is one of the regulars in reality TV show, 90 Day Fiancé: The Other Way. He came into the show courtesy of his American fiancé Laura whom they got married but later separated. Presently, the fitness trainer runs his own tour company while interacting with his fans on Instagram. You can catch him on the aforementioned show to know more about his moves.