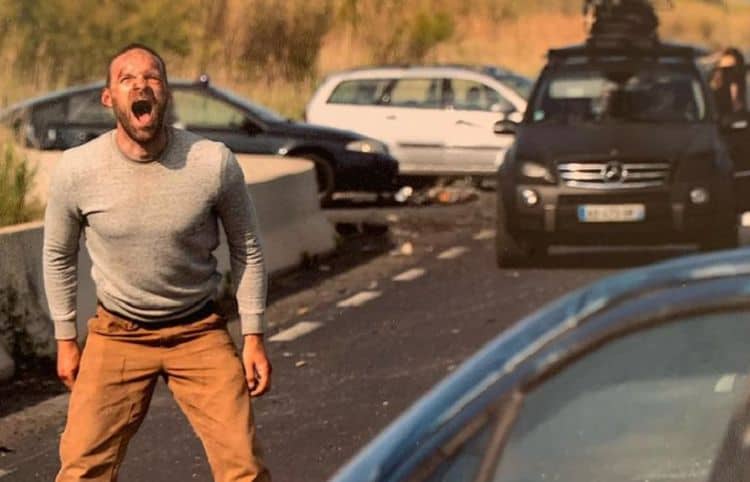 Although it may be hard for some of his fans to believe, Alban Lenoir has been in the entertainment industry for more than 20 years. During that time, he has built a resume that now includes over 70 acting credits. His ability to light up the screen, particularly in action movies, is truly unmatched. Despite having worked primarily in French productions, Alban has gained recognition all over the world for his talent and dedication to his craft. Most recently, he appeared in the TV series Calls. Alban also has some new projects in the works that are sure to keep his fans on their toes. Keep reading to learn 10 things you didn't know about Alban Lenoir.
1. He Started His Career His Career Doing Stunts
Alban is now known for his acting skills, but when he entered the industry he got his foot in the door by doing stunts for a few projects. Although he has never considered himself a stuntman, he is able to perform some stunts as needed. His ability to take on the physicality of action projects helped him gain access to bigger opportunities.
2. He's A Van Damme Fan
When it comes to action movies, Jean-Claude Van Damme is one of the most well-known names in the business. Over the course of his career, he has starred in several hit movies including Cyborg, Sudden Death, and Street Fighter. Needless to say, Alban has always been a huge fan of Van Damme's work.
3. He's A Director
Sometimes people in the entertainment industry are encouraged to pick one lane and stay in it, but Alban has never been afraid to spread his wings and try new things. In addition to acting, he has also directed plays. Most notably, he co-wrote and directed the 2005 play, Entre deux. Alban has also acted in several plays.
4. He's Been Mistake For Romain Duris
They say that everyone has a twin out there and apparently Alban Lenoir's works in the same industry. During an interview with Pure Break, Alban said "When I have a good beard and long hair, I am taken for Romain Duris. It happens quite often. "Oh Arnacoeur! ". What would I have liked to do with this film but it's not me."
5. He Is A Screenwriter
Alban is truly passionate about the arts and he loves getting the chance to express himself creatively. On top of acting and directing, screenwriting is something else he has done. According to his page on IMDB, he has written for several TV shows including Hero Cop and Off Prime.
6. He Loves To Stay Active
Staying in good shape has always been one of Alban's top priorities. From a professional perspective it makes sense as many of the roles he's done have required him to be physical. On a personal note, regular exercise has lots of great mental and physical health benefits.
7. Being Cast In Balle Perdue Was A Dream Come True For Him
Professional actors are always thankful any time they're able to land an acting opportunity, but there are some roles that are more exciting than others. For Alban, Balle Perdue was one of those roles. While talking to Pure Break he shared that acting in the movie was his childhood dream. The movie had every element he could hope for as an actor and filming it was a great experience.
8. He Is Very Adventurous
Alban spends a lot of time working, but that doesn't mean he doesn't make time for other things. He has an adventurous spirit and he loves having exciting new experiences. Whether it be traveling, exploring nature, or diving in the ocean, Alban is always up for a good time.
9. He Is A Private Person
Despite spending more than 20 years in the industry, Alban has never become the type of actor who likes to share all of his business with the world. In fact, he's almost the exact opposite. He doesn't share much information about his personal life. Even the details of his relationship status are a little unclear. While his fans would love to know more about him, it's easy to see why he would prefer to keep things a little more low key.
10. He Enjoys Going To The Movies
There are plenty of actors who have expressed that they don't like to watch movies or TV shows in their free time. Like anyone else, the last thing they want to do outside of work is think about work. Alban, however, doesn't feel that way. He loves watching movies and especially enjoys going to the theater.