Jorge Garcia is returning to regular television in Alcatraz, a new series produced by J.J. Abrams, who also produced the last series Garcia worked in: LOST. Despite the involvement of so many LOST producers (including Jack Bender), and the fact that a great deal of its action takes place on a mysterious island, Alcatraz is a different series entirely. For one thing, it's far more procedural than the highly complex and mythology-based LOST. But Garcia is embracing the differences between the shows and enjoying the new series, as he told us during a visit to the Vancouver-based set in October: "It's kind of fun finding a new guy. I'm really enjoying it. And I'm digging what they've been writing for me. I did LOST for six years, now let's explore someone new."
On Alcatraz, Garcia plays Doctor Diego "Doc" Soto, a comic book enthusiast who also happens to be an expert and author on the subject of Alcatraz. Detective Rebecca Madsen (Sarah Jones) finds an impossible connection between a killer and the mysterious old prison: the present-day killer is actually a former prisoner from Alcatraz who disappeared in the 1960s and has resurfaced without aging a day. In need of information about the prison, she approaches Doc for some answers.
Later, the pair come across FBI agent Emerson Hauser, who tries to prevent them from trying to track down the missing prisoners. But Hauser is grudgingly forced to tell Doc and Rebecca that he knows more than he's let on and that he's made it his life's mission to wait for these prisoners to return so he can get to the bottom of the mysterious situation.
At first, Doc is excited to work with Det. Madsen and explore more about one of his favorite subjects, but soon the element of danger becomes clear. "He's kind of a fish out of water. He's in a huge element of stress and anxiety when he's first in the thick of it. He's discovering that [working with Rebecca and the FBI] is much more gruesome and much more dangerous than he had probably anticipated. He has to kind of deal with that and man up, I guess."
In the second episode of Alcatraz in particular, Doc wonders whether joining the new task force to hunt down these mysterious Alcatraz prisoners is the right choice for him: "I think probably this is the most exciting thing he gets to do. But I think immediately, when you come across the culture shock of '˜oh, this is a room full of blood', and on top of that, this is such an important, '˜save the world kind of duty now, that no one else can know about'- it gets serious and real, very fast."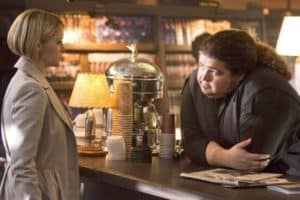 What really helps Doc stick with Madsen and the task force is not only his genuine interest in Alcatraz, but also his quickly growing friendship with Madsen herself, strengthened by the fact that Hauser is clearly keeping the duo on a need-to-know-basis: "It's kind of us against Hauser sometimes. We have this kind of relationship where we look out for each other. She does the ass kicking and I do the figuring. But we also try to watch each other's back. We know we have to deal with Hauser and Hauser's not going to give us a lot of information, so there's sometimes moments where we find ourselves having to be in cahoots with each other." When one of the press members in attendance asked whether this could relationship ever become romantic, Garcia simply laughed "we just started".
While Doc is introduced to the audience in the pilot as an expert and authority on the subject of Alcatraz and its prisoners, expect to learn more about the character himself as the story progresses, including why he's so interested in the prison: "You get a piece as to probably where his original obsession with criminology came from. It's more a traumatic experience in his past [that prompted him to become interested, instead of a family connection like Rebecca]."
On LOST, Garcia often played Hurley as one of the more humorous crash survivors. Will Doc bring a touch of humor to this serious show? Garcia enigmatically said "I do have my moments", but co-star Sarah Jones was able to shed some more light on Doc's propensity for comic relief: "I would say that there a few moments – you definitely need a bit of a relief. I think Jorge brings a wonderful quality in that aspect. For Doc – he's an expert on Alcatraz and he writes comics and owns a comic book store and he didn't know what he was getting involved in in the slightest bit. The way he handles things, to me, there's times that brings a lightness. Speaking for Rebecca, he kind of allows her to lighten up for a second because she's so focused and so on the go at all times."
You can watch Jorge Garcia in the two hour series premiere of Alcatraz, airing Monday, January 16 at 8:00 p.m. ET on Fox. After the two-hour premiere, the show airs on Mondays night beginning at 9:00 p.m. ET. Also, watch a featurette below from Fox about Doc Soto. Also, read more about Sarah Jones, her character and the show in an interview we posted earlier today.