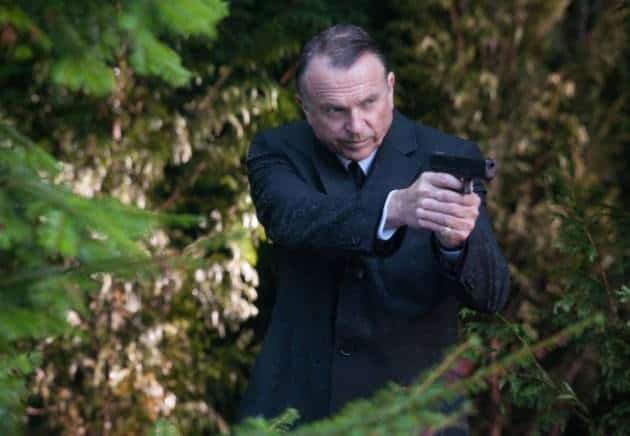 Alcatraz unlocks its third episode "Kit Nelson" tonight after debuting last week with both the pilot episode and follow-up "Ernest Cobb," as this week the Alcatraz task force races against time to stop a kidnapper from the past (Michael Ecklund) with a nasty habit of returning his victims home after he's killed them.
Finding the target before it's too late becomes something of a personal quest for Alcatraz expert Dr. Diego Soto (Jorge Garcia), so will Detective Rebecca Madsen (Sarah Jones) and Emerson Hauser (Sam Neill) be able to track down Kit Nelson before it's too late? Just what interest has Dr. Soto taken in their latest recovered Alcatraz inmate? Does Emerson Hauser know more than he's letting on? And what was up with Emerson's assistant Lucy (Parminder Nagara) showing up in the past? Be sure to check out tonight's episode for all your answers when it debuts in its regular time slot at 9:00 ET/PT, after an all new episode of House.
For those interested in keeping score of J.J. Abrams' latest mystery series, the two-part series premiere of Alcatraz debuted to an impressive 10 million viewers, scoring a 3.3 demo rating. The premiere boasted ratings 10% higher than the debut of FOX's fall sci-fi epic Terra Nova, whose renewal has yet to be decided by the network. Alcatraz also gave the FOX network its best drama series debut since 2009's Lie to Me, so there's a good chance its future will be somewhat less in doubt than other high-profile science fiction series on FOX. If you want to keep the mystery going, you'll just have to watch every week!

But before you tune into tonight's all-new Alcatraz, be sure to check out FOX's special behind-the-scenes preview from the episode below, and flip through a host of fresh images from "Kit Nelson" by using the arrows above!