Back in October, we had the opportunity to chat with Alcatraz actress Sarah Jones during a visit to the show's Vancouver set. Alcatraz is the newest drama from producer J.J. Abrams and will be premiering on Fox on Monday, January 16. Jones took some time away from filming to talk to a group of writers about how she's enjoying the show and the transformation her character will go through as she's pulled into the strange world related to Alcatraz.
San Francisco Police Department Detective Rebecca Madsen was a regular police office until she got called in on a mysterious homicide. The killer is reportedly none other than Jack Sylvane, a former Alcatraz inmate who disappeared when the prison closed back in 1963. Only Sylvane is now in present day and hasn't appeared to age. Madsen eventually seeks out comic store owner and Alcatraz author Doctor "Doc" Soto to gather information about the prison and Sylvane. Rebecca soon meets FBI Agent Emerson Hauser, who attempts to impede her investigation, until he's forced to tell her the truth: that he's been waiting for these prisoners to resurface for the last 50 years.
When discussing the show, and her character specifically, Jones told us that: "The show is kind of that procedural hybrid, where you do get to figure out a mystery every week, but there's character [development] added and there's a bit of mythology as well. It's about [Rebecca's] journey into a phase/chapter in her life that connects her to her past that she didn't know about before. Her world is basically turned upside down in the pilot and [Alcatraz] follows her in trying to put the pieces together." In other words, Rebecca is trying to make sense of the mystery she's now involved in while, at the same time, trying to catch all of these dangerous former Alcatraz prisoners who have reappeared in modern times.
It will be taking Rebecca quite some time to come to terms with her new life and her work with Hauser. In fact, as Jones told us, "I think she's got a few [conflicts]. The writers kind of revealed this – after the pilot, almost everything she might have thought were her conflicts kind of go out the window and it really turns into '˜Where the hell am I? What is going on?'. For her, her conflict is to find her grounding again. Prior to this mystery coming into her life and prior to Hauser coming into her life, she kind of had a routine down. She knew what she was doing every day and she knew how to handle her life. And after this, it just shattered. I think, in my opinion, the first season is about her trying to find her footing again."
Fortunately, Doc Soto will be on hand to help Rebecca find her footing. Jones said she's very much enjoying working alongside Jorge Garcia, who plays the Alcatraz expert, and their characters will do a great deal of bonding: "I really like what the writers have done with their relationship. [Rebecca's] not quick to trust people, there's very few people in her life that she allows herself to get close to and trust. I like that the writers aren't so quick to make Rebecca and Doc best friends. There's a relationship that's built. Sometimes they have a moment together and sometimes she pushes him away. It allows Doc and Rebecca to get to know each other and learn how to trust each other."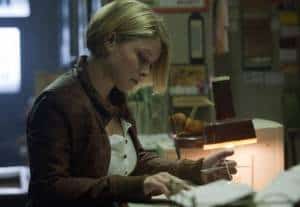 Rebecca has a deeply personal connection that's driving her to find answers in Alcatraz. As we're told in the pilot, her grandfather was a guard at the prison. "You see in the pilot what her drive is to push through, and that's her grandfather. The closer she gets to solving these crimes – regardless of whether she believes them or not – the closer she gets to her grandfather and unlocking some things of her family history and trying to figure out who she is."
But we'll soon learn that Rebecca doesn't necessarily know everything about her family history. In addition, we'll see a few twists at the end of the second episode (part of the two hour premiere). Jones made a point to say "I really appreciate that they're not making the audience wait forever and ever to figure something out. They're giving people a glimpse into what's going on."
As for working on Alcatraz, Jones says that she's very much enjoying it, particularly her co-stars. "I love the cast, I love the crew. I thank God every day that this is the case – that we like working together. I think both [Jorge & Sam] are brilliant. They both have such a wonderful sense of timing, you know, dramatic or comedic. And they both move me whatever scene we're in, they both bring something…. Yes, they're very different. What they do is wonderful. They're both pretty subtle. They're both lovely. It's really great to work with both of them."
Executive Producer Jack Bender also had many good things to say about Jones and her character: "She brings a lot of unique freshness to this role." Bender said that that Mariska Hargitay has "paved the way for this kind of character – the woman cop investigative thing – and done it brilliantly and all the other women on all the other procedural shows who play this part also do a really good job, but what I love about what Sarah is bringing to it. There's a youthfulness and a vitality and a slightly off-centre funkiness to her version of this cop."
You can watch Sarah Jones in the two hour series premiere of Alcatraz, airing Monday, January 16 at 8:00 p.m. ET on Fox. After the two-hour premiere, the show airs on Mondays night beginning at 9:00 p.m. ET. Also, check out a featurette below from Fox about Sarah's character.