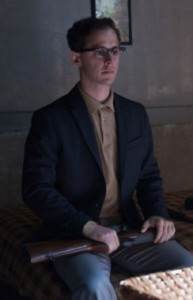 Alcatraz continues its two-part series premiere with tonight's second episode 'Ernest Cobb,'as Detective Rebecca Madsen (Sarah Jones) and Dr. Diego Soto (Jorge Garcia) settle into their new roles investigating the re-appearing Alcatraz inmates, and a brutal sniper attack points them and Hauser (Sam Neill) toward an eccentric inmate (Joe Egender) known for sniping victims in threes.
If you didn't get a chance to check it out for yourself, read on for our Alcatraz recap of "Ernest Cobb'!
In Alcatraz 1960, Tiller leads prisoner Ernest Cobb through the pirson to meet Warden James, who questions Cobb about his sniper shooting crimes while popping off his own rounds at a makeshift targeting range. Cobb declines to explain what motivated his original crimes, but does explain that he shot a prison guard to request a transfer to Alcatraz for a private room.
Later, presumably in the present, Cobb sets himself up a pleasant hillside picnic in the park. After a bite of his sandwhich, he assembles his sniper rifle, and trains his eye on a coung couple strolling through nearby fair grounds.
Elsewhere, Dr. Diego Soto (Jorge Garcia) trains an assistant to run his comic shop while he works on the top-secret Alcatraz task force, when Rebecca Madsen (Sarah Jones) arrives with breakfast, and a few questions about the limited information about her grandfather in Soto's books. Back in the park, Cobb trains his sniper sight on a man, and the young couple he spied earlier. He guns down the man, the young teen, and his helpless girlfriend, all of whom die instantly.
At the crime scene Diego expresses difficulty being around such gore, but contributes when he and Hauser realize that the dead crows mean another Alcatraz inmate's MO, that of Cobb's. Cobb usually does three shootings in three days, before disappearing underground. Diego and Rebecca have an epiphany about the type of gun Cobb used, and with some deductive reasoning manage to recover one of the bullet casings the inmate left behind!
Quickly flashing back to 1960, Cobb and his chatty cell neighbor observe the scene from the pilot of Jack Sylvane being dragged away from his divorcing wife, before the action shifts back to 2012, where Lucille (Parminder Nagra) interrogates Jack to see if he recognizes Cobb. He denies knowing Cobb, and insists he has no idea how he arrived in 2012 or what the key he retrieved last week signifies. According to their equipment, Sylvane appears to be telling the truth.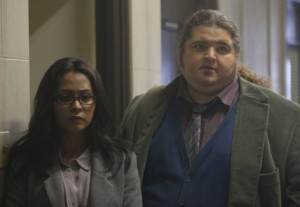 Diego observes a few hidden mysteries around their home base, before Cobb's gun casing leads them to a gun shop Rebecca has investigated before. There they discover via security footage that not only did Cobb retrieve his rifle using a prepaid cell phone, he also carried a distinct room key they can trace to a hotel. Cobb sets up his rifle and coldly waits in his room, as Lucille, Diego and Rebecca head to the hotel room, which sits empty. That is, until Lucille uncovers a window message with a bullseye over it, and Cobb shoots her through the chest from across the way! An ambulance takes Lucille off as Hauser finally arrives, and ignores Rebecca's questions to scold her that Ernest Cobb is still out there.
With Lucille alive but in a coma, Hauser retreats to his re-created Alcatraz to question Jack if Lucille was a target, which he denies knowing. Hauser reminds him that 'Dr. Beauregard'might be able to jog his memory. Meanwhile, Diego and Rebecca manage to reason out that Cobb's seemingly random MO hides that fact that one of his victims is always a teenage girl. As Rebecca tries to get into his head from the prison cell, Diego brings an undelivered letter to Cobb from Eloise Monroe, his half-sister looking to strike up a pen-pal relationship after she saw their mother spurn Cobb.
In 1960, Cobb finds a method of passive resistance in Alcatraz that gets him sent to solitary confinement, while Rebecca realizes the man made a scope out of limited means, and liked to stare at the view overlooking San Francisco. The '˜60s Cobb finds new torment from the warden by placing his chatty neighbor in solitary with him, as 2012 Cobb perches himself, and takes out three new victims by a local mall.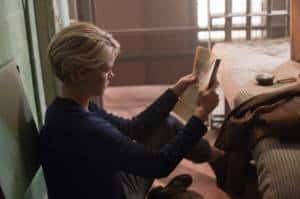 Rebecca reasons that the mall shootings were only Cobb's second killing, Lucille not having been intentional, which means the man will strike once more. Comparing Cobb's prison cell view with the buildings he would have seen at the time, Hauser and Rebecca come to believe Cobb will use either one of two buildings as a vantage point for his final kills, and the team races to stop him.
Hauser takes one building while Rebecca takes the other, but it's Rebecca that finds the man poised to kill on the rooftop. She attempts to reason with him and explain how his half-sister tried to contact, but it's of no use. Thankfully, Hauser arrives and together he and Rebecca manage to outflank Cobb long enough to get him on the ground, where Hauser shoots Cobb through the hand for revenge.
Later, Hauser keeps watch over Lucille while Rebecca assures Diego that despite his trepidation, he's doing fine in their mission, and she will need his help to continue. Hauser leaves the hospital sharing an intense gaze with Rebecca, and heads back to 'New Alcatraz'to bring in Cobb, who seems confused to see Jack Sylvane present as well. Hauser assures Cobb he could have killed him, and Cobb will wish he had.
However, back in 1960, Warden James finally gives up on rehabilitating Cobb, and brings in a new doctor he believes can help, none other than Lucille Sangupta herself, at the very same age!
Did you get your fill of time-traveling action? What did you think about the premiere? Join us next week for an all-new episode recap of Alcatraz on FOX!