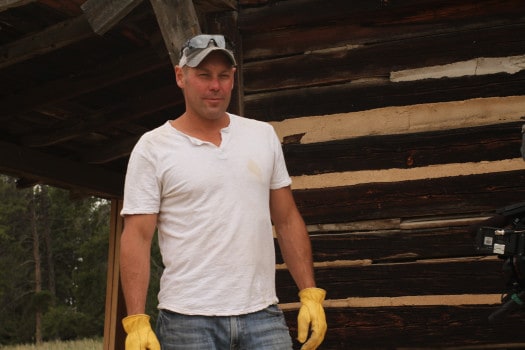 If you're not a fan of Top Shot, it's not a shocking surprise to many. It's not exactly the Real Housewives, but it has its audience, and it's a big one. The show follows contestants who find shooting a hobby they enjoy, and it measures their skill and abilities with a gun. Alex Charvat is one of the many contestants on the show, and he might even be among the most interesting. He's a structural engineer from Colorado, and he's been on two seasons of the hit show. We thought fans might want to get to know a bit more about him, so we are sharing a few things about him you might not already know.
1. He'd Never Seen the Show Before
It's hard this day and age to imagine that someone grew up without cable television, but it happens. In fact, I grew up without cable television. My parents were proponents of reading, so that's what I did for fun. We did have a few local channels, so I did grow up on TFIF (Full House, anyone) but that was primarily it. So, it doesn't shock me to find out that Alex Charvat doesn't have cable television, either. It's a great choice, but it did mean he'd never seen even an episode of the show in his life before being cast.
2. He's a Hunter
Being an avid hunter is not the only reason a person likes to shoot, but it does help. Many people enjoy the sport simply to enjoy the sport, but Charvat likes to shoot and hunt. He feels that his lifetime of hunting helped him develop a love for shooting, and it might just be why he's such a good shot. We'd love to know about his success rate when hunting.
3. He Chose His Daughter's Name
This is a man who isn't just good at shooting. He loves it so much that he even named his daughter after one of the most famous shooters in the world. Annie Oakley is a famed shooter who will always be remembered, and he named his own daughter after her. That's not something you hear about often as many moms and wives would not be willing to name their child after a famed shooter, but Annie is a lovely name, so where's the argument in that one?
4. He Loves the Engineering Aspect of Everything He Does
As an engineer, Alex Charvat likes to take a look at the mechanics of everything he does. Shooting is something with such complex yet such simple mechanics, too. He loves that aspect of it. He loves to look at it like it's a puzzle and figure out where to fit all the pieces so that he's able to focus on what he needs to do to ensure an accurate shot. He's good, too, and we think that it's his engineering background that helps him along the way.
5. He's Got A New Show
Did you know that Top Shot was not the only show that made him famous? Well, it's the show that made him famous, but it's not what he's up to now. He's now filming a show by the name of "Reclaimed" on the Discovery Channel. He and a friend go through the old mining caves across the country and try to turn the old abandoned spaces into beautiful pieces of property. It's fascinating.
6. He Loves the Camera
There was a time when his show was done being filmed, the first one that is, and he was not done with the camera. He might not love to watch television, but he loves being part of it. He went back for a second season of Top Shot because he 'craved' the camera on him. He loved to tell the story and play the role that was in front of him, which is why he was more than happy to have his own show a few years later.
7. He's Got His Own Company
One of the many reasons Charvat ended up becoming a famous man is because he has his own company building log homes. He once received a call from a producer asking him if he could refer them to someone with some expertise in the log cabin game, and he was their expert. That conversation became the hit show "Cabin Rescue," for him. And, just like that, he was back in front of the camera and ready to do some business.
8. His Old Show Became His New Show
He spent a few seasons filming the "Cabin Rescue" shows he loved so much, but things took a bit of a turn. They were good, and the show did well, but the producers wanted to take things to a new level. Gone are the days that they did this. They took the show that he was filming and they turned it into the show he is now filming, which you can watch on Discovery Channel at 9 pm on Thursdays.
9. He's An Engineer in Many States
Being an engineer is not something you can just do without passing certain tests and exams, being appropriately licensed, and many more details that bore most people. However, he's managed to make that happen for himself in more than just a few states. He's licensed in six states, which is impressive. All of which are located in the west, but that's where he does business.
10. It's Been Said He Makes Dreams Come True
There's a saying about him on his own website. He makes dreams come true. This is because when you think about a log cabin, you think of a small structure in the middle of nowhere in which you have the bare minimum in terms of comfort and luxury, but he's someone who can do it all. He's done the small cabin building, but he's also built log cabins that are more like 10,000-square foot luxury homes for his clients. He's a dream builder, and that's a very cool thing to be.