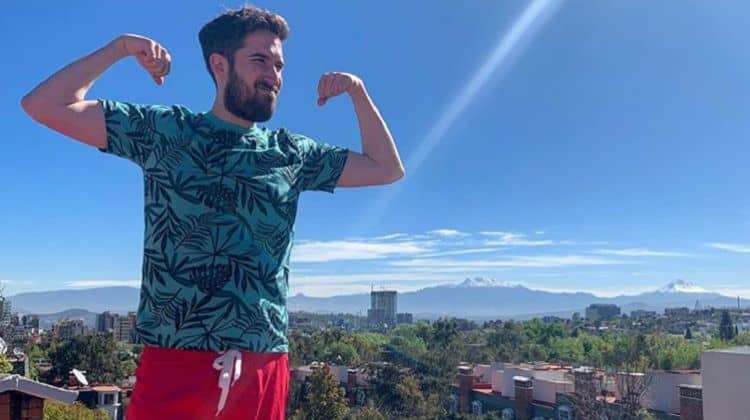 Comedy is one of the most engaging art forms, as it focuses on our day to day lives, punctuating it with humor. It has now become a mainstay in the entertainment industry, with many shows coming up. One of the comedy shows that graces our TV screens is Netflix's Alex Fernandez: The Best Comedian in the World. It is a fascinating show where Alex Fernandez takes the lead in leaving the audience in stitches. Though the show just premiered at the end of January 2020, it has already brought the comedian impressive attention. Many who have come across this show question who he is, and his background. To know more about Fernandez, hang on as we bring you ten things you probably did not know about him.
1. His Early Life
Alex was born on the 22nd of November, 1985, in Mexico City, the capital of Mexico. Thus presently he is 34 years old. He spent his childhood in Mexico City, where he grew in a family of six, and was the youngest among his siblings. Being Mexican, he is fluent in Spanish, which he uses often in his standup sets, as you can see from its trailer on Netflix's official website. While most details of his family are in the dark, his stand up stints borrow heavily from their relationship ever since he was young.
2. The Black Sheep?
As earlier hinted, in many of his comedy sessions, he refers to his family members, mostly his siblings, who he grew up with. As the last born, there was the pressure of him to follow his siblings' path, and most of them took on engineering as a career. He veered off this path and opted for comedy instead. It made him look different, and at times he says he did not receive as much support as he anticipated.
3. He Lost a Cherished Family Member
Still focusing on his siblings, he adores one of them immensely – that is his brother Pedro. Unfortunately, he is deceased after a long battle with esophageal cancer. In his shows, he talks about Pedro, and they seemed to have had a close relationship. He indicates that he supported him in every move that he made, and from the tone he takes, it is no secret that he misses him.
4. Education
Do not let his antic on the standup stage fool you to think that Alex Fernandez is not good in books. He attended the Monterrey Institute of Technology where he graduated with a degree in marketing.
5. His Stint In Marketing
Once he graduated from college, he immersed himself in the corporate world, pursuing a career in marketing. He stuck on his career path for seven years until the bite from the comedy bug became too much for him to bear, and he switched to the entertainment scene.
6. Venture Into Comedy
After his seven-year stay practicing marketing, he called it quits in 2007 and made the leap of faith into comedy. At that moment, he had already tried out several standup performances, and he was confident of the move. Among his successful trials when he got into entertainment was on STANDParados, a comedy television program. He used his success from the program to set the strong foundation that he is thriving on at the moment. Two years into the move, he was a proud entertainer boasting of a loyal audience.
7. His Comedy Style
When it comes to comedy, how a comedian develops and shares the humor is a huge part of their personality and brings in the element of uniqueness. This statement is true for Alex Fernandez, whose style many describe as poignant. According to Distractify, while many people go to comic shows to laugh, for Alex's show, you may shed a tear from his tales and conclude by having a stitch when he derives the humor. As earlier hinted, he talks more about his family and upbringing as part of his act, and from his tales, he always has his audience up in laughter.
8. Cutting His Teeth As An Entertainer
Due to his uniqueness and resiliency, he had his first Netflix special, The Alex Fernandez Special, which came out in 2017. The show was critically acclaimed and brought along the sequel, Alex Fernandez: The Best Comedian in the World, which came out in early 2020. Aside from the Netflix shows, he also has his podcast, The Alex Fernandez Podcast, which came through in 2018. It is still up and running on various digital platforms, with biweekly broadcasts.
9. His Relationships
When it comes to his personal life, this comedian loves to keep it low key. As such, fans do not know much about his life far from the stage, and his relationships is one of the things in the dark. However, he broke his privacy chain in 2019 when he announced his marriage to his girlfriend, Yara Cavazos, who is a photographer. The news caught many by surprise as they did not expect such a move. At the moment, it is not clear if they have kids yet or not.
10. Social Media Presence
As a celebrity, social media is one of the most effective tools should you want to reach out to your fans. Alex knows this and has a strong social media presence, with active Instagram and Twitter handles. On Instagram, he has over 383,000 followers and over 1400 posts. On his posts, you can see him having a good time in various places where he visits for his comedy tours and other engagements that he takes part in. On Twitter, he has 529 followers.
Conclusion
Humor is a robust tool which those in the comedy scene use to pass various sentiments, and Alex Fernandez knows how to use it correctly. Above is a sneak into his lesser-known details. Catch his sessions on Netflix to have a taste of his unique delivery style.