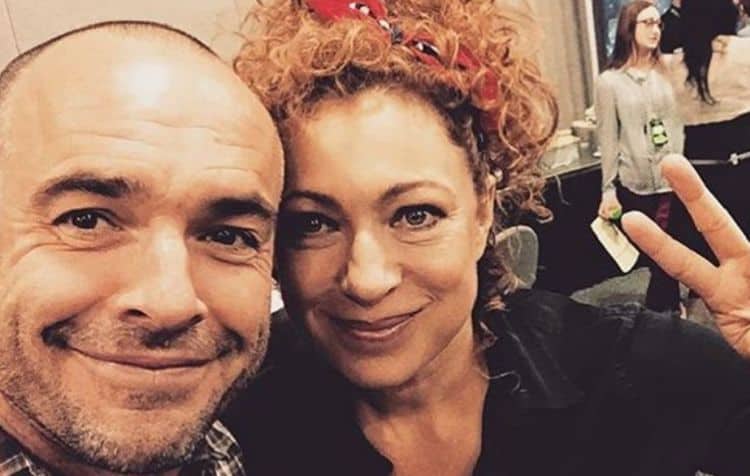 Award winning actress, Alex Kingston, has been keeping audiences entertained for nearly 40 years. Throughout her career, she has appeared in both American and British productions. She is best-known for her role as Dr. Elizabeth Corday on ER as well as her current role of Sarah Bishop in the TV show, "A Discovery of Witches". In an industry where consistency and longevity are two of the most difficult things to achieve, Alex has managed to accomplish them both. At almost 60-years-old, she is still going strong and she isn't showing any signs of slowing down any time soon. Keep reading for 10 things you didn't know about Alex Kingston.
1. She Met Her First Husband While Attending RADA
Alex studied acting at the world famous Royal Academy of Dramatic Art (RADA). While there, she met her first husband Ralph Fiennes, who is also an actor. The couple dated for 10 years before getting married in 1993. Unfortunately, the marriage ended after just two years.
2. She Is Bilingual
Alex was born and raised in England. However, her mother is German. She is fluent in both English and German. Some sources suggest that she can also speak French. Despite being able to speak more than one language, it appears that English is the only language she's acted in.
3. She Has An Easy Time Learning Lines
For some actors, the process of learning lines can be time consuming and difficult. Fortunately, for Alex Kingston, she hasn't had to deal with that issue. She finds it very easy to learn lines. She told The Stage, "When you know your lines, you can throw it away and really start to explore who your character is. It liberates you."
4. She Would Like To See New Roles For Women
Roles for women have evolved greatly over the last several years, but there is still a lot of room for improvement. During her interview with The Stage, Alex said, "I don't want to play King Lear, I don't want to play Hamlet. I'd rather see new, heavy-hitting roles be created for women. It was ostensibly a man's world back then. So, let's now say: 'Let's create new works that celebrate the fact that's no longer the case.'"
5. One Of Her Teachers Got Her Into Acting
Alex isn't the type of actor who discovered her passion for acting before she could talk. Instead, it took some guidance for her to get involved. One of her high school teachers inspired her to get involved in acting, and she decided to try out for a part with a local theater company.
6. If She Wasn't Acting, She'd Be Dancing
It's hard to imagine Alex doing anything other than acting. But she says if she was doing something different, it'd still be something that allows her to express herself. If she weren't acting, Alex believes that dancing would have been a good career path for her.
7. She Went Through IVF To Have Her Daughter
Alex Kington has been married three time and has one child, Salome Violetta Haertel from her marriage to Florian Haertel. Alex experienced some difficulty getting pregnant and had to undergo 13 rounds of IVF before getting pregnant. Salome isn't an actor (at least not yet) but she did play the role of her mother's character's daughter in an episode of ER.
8. She's Not Very Active On Social Media
There are lots of celebrities who can't seem to get enough of social media. But that isn't really Alex Kingston's style. In fact, she hardly uses social media at all. Although she has 169,000 followers on Instagram, she's only has 39 total posts and has only posted one time this year.
9. She Had A Voice Role In A Video Game
Playing River Song on the popular British series, Dr. Who, was one of the best experiences of Alex Kingston's career. Not only did she get to play River in the TV series, but she also got the chance to voice the role in the 2012 video game, Doctor Who: The Eternity Clock.
10. She Started Her Career On Stage
Alex has had a very successful film and TV career, but she's also had lots of success on the stage as well. In fact, she spent a good portion of the beginning of her career doing theater work. She told Nottingham Playhouse, "I spent ten years in regional theatre. That was kind of my apprenticeship. I left RADA thinking I knew it all, but it was only when I went from regional theatre to regional theatre… that is where you learn your craft." She also added that she doesn't have a preference between the screen and the stage; she's just happy to work.