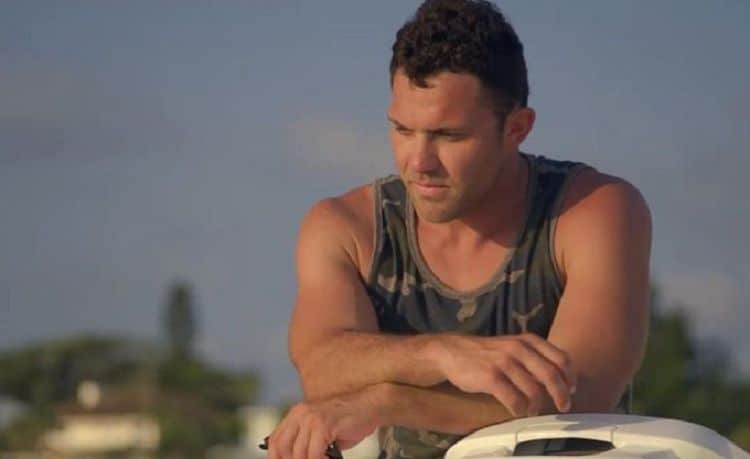 When people talk of being born with a silver spoon in their mouth, they must be referring to rich kids like Alex Kompothecras. The 24-year-old who was born in Florida is the leading cast member of "Siesta Key," a reality television that is filmed in the mansion he lives in, the Siesta Key Mansion. Alex has found fame thanks to the series that is currently in its third season. His life has been filled with scandals; let's check out some of them as we get to share more about him.
1. It was his father's idea to have a reality show based on Alex and his friends
Alex's father is a wealthy man who is a chiropractor by profession. One day as he watched Alex and his friends, he realized they were living a lifestyle that would look good for the cameras. With that, Gary Kompothecras decided to film the pilot of the reality show and send it to various networks. After waiting for a response for nearly a year, MTV contacted him saying the series is what they were looking for; hence "Siesta Key" was born.
2. He is a serial cheater
Gary Kompothecras may have flaunted that the cast members of the reality show were well-behaved, but he forgot to add that his son has a hard time saying no to any girl who wants to sleep with him. Alex's longtime friend Chloe noted that Alex is a womanizer and has slept with nearly all of her friends. He has also been intimate with almost all the cast members, including Kelsey, Juliette, Madisson, and Amanda. As if proud of his infidelity when he boasted about cheating on Juliette, Alex said that it was a joke, and he always covers his tracks.
3. He is going to be a father soon
Despite his inability to stick to one girl, Alex has found one who is ready to carry on the Kompothecras name. He is currently dating Alyssa Salerno, who is pregnant with a girl. Of course, when money is not an issue, you can expect things to be done extraordinarily. Therefore the gender reveal was done by a plane releasing pink smoke as it flew. The father-to-be is overjoyed and took his excitement to Instagram to announce the good news.
4. Two of his siblings are disabled
Alex admitted that he had to mature fast because he is the eldest in his family. Besides, his brother Bronson and sister Sarah Alice are autistic; hence he had to be more responsible and help take care of them. Alex also tries to make an impact in the lives of those living with autism both within his community and nationally; he hopes to start a nonprofit to raise awareness about autism. The family also holds galas in their mansion to fundraise for those on the Autism Spectrum.
5. He loves boating and fishing
The reality star has not hidden his passion for water activities, and you will find him spending most of his time in the water. Alex's love for boating started when he was a young boy; at five years old, he was already fishing, and by the time Alex celebrated his 9th birthday, he had a boat. He is lucky to be living in South Florida, which he flaunts as the worldwide fishing capital due to the numerous habitats and diverse fish. Besides, the weather is conducive, allowing him to go fishing any time of the year, which he appreciates since he is happy while on the waters, especially with his little brother Gabriel who shares his passion.
6. He has dyslexia
When Alex talked to Shreveport Times, he said that although he has dyslexia, he has learned how to deal with it. As he studies to become a lawyer, Alex discovered that he needed to take frequent breaks to ensure his concentration was not affected. His friend, Patrick Hayes, even wished him success on Facebook, saying it would be a challenge to meet the goal of graduating top of his class since he has dyslexia.
7. He is charitable
Alex may seem like a spoiled rich kid, but he has a big heart. When he was busy studying for his law degree, Alex still made time to go out with Trey, a nine-year-old boy who was suffering from leukemia. Trey had just completed his chemotherapy session and wanted to have a good time in the waters. Alex agreed to take him fishing despite being nervous that he had lost his touch due to staying for long without going fishing. His generosity paid off; they caught the largest number of fish since he went to law school.
8. He got death threats after a shark-dragging video controversy
When Alex's friend Michael Wenzel sent him a video showing Michael and two other men dragging a shark by its fins, Alex said he was disgusted. Unfortunately, he was linked with the scandal since he is Michael's friend and even began getting death threats. Alex claimed he had never been in Michael's boat and was not in the video, but that did not spare him, and "Siesta Key" castmates from the hatred that followed them on social media, according to People.
9. His father's house is often mistaken for a hotel
Alex's father, Gary, is one of the richest men in Sarasota, thanks to his legal and medical hotline. The man owns a house worth $12,613,900 that was listed among the 20 most expensive homes in Sarasota. The home has seven bathrooms, which is ideal for Gary and Beth's six children. It is so big that people often go there thinking it is a hotel; therefore, it is no surprise that Gary decided to build a hotel too.
10. He has known his girlfriend since they were kids
For those of you thinking that Alyssa is a gold-digger who is out to get the Kompothecras fortune, you might be wrong. As it turns out, Alex and Alyssa have known each other since they were kids. She grew up in Sarasota, and the two have proof of their friendship through photos of them together that they keep posting on Instagram.