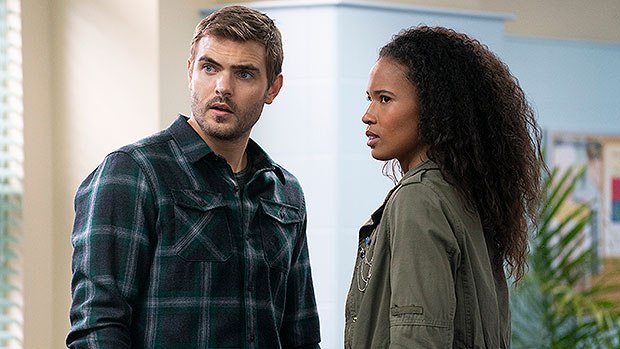 Boatloads of talent, good looks, and a British accent – is there anything Alex Roe doesn't have? The 30-year-old star of the Freeform series, Siren, might just be proof that it is possible to have it all. Roe got his start in acting when he was just a child. Unlike countless other childhood actors, he's managed to make a very smooth transition into being an adult star.  Since making his film debut in 2000, Alex Roe has earned over a dozen roles in major TV and movie productions. There's no doubt that Alex will continue to pop up in major projects. Here are 10 things you didn't know about Alex Roe.
1. He Has A Twin Sister
Alex Roe has managed to stay low key about many of the details of his private life. However, in 2018 he posted an adorable baby photo of himself and his twin sister. Alex didn't mention his sister's name or say anything in the caption other than "This is my twin sister".
2. He Does The Perfect American Accent
In 2018, Alex Roe starred in the film Forever My Girl. Not only did the film require him to speak with an American accent, but since his character was a country singer, he had to add a southern twang. While there are plenty of Americans who can't successfully master a southern accent, Alex took on the challenge with no problem. When asked how he did the accent so well, Alex said, "As English people, we grow up with all sorts of American accents on TV and in movies. I think just surrounding myself with it while I was getting ready for the role enabled me to be a little bit free with it. I stayed in the accent while I was on set, so it wasn't until the wrap party that everyone heard my actual accent."
3. He Doesn't Like Being Friends With Actors
Although Alex is a star, he's never been a fan of the star studded lifestyle. He doesn't even like to attend the premiers for his own movies. He's also particular about who he spends his free time with. In an interview, Alex shared, "I try to avoid being friends with actors — most of my tickets for the premiere were for my football team."
4. He Plays Soccer
Soccer, or as it's more commonly referred to in other parts of the world, football, is one of Alex's longtime passions. In fact, Alex might just be more passionate about soccer than he is about acting. He has played the sport his entire life and continues to play today. Alex outlined his soccer career during an interview sharing that he played for "a Division 2 team. But I'm pretty proud of it. I played for my local team and, when I was 16, I found an open trial online, travelled an hour and a half on the train with my best mate for moral support, and managed to get signed for a professional team in North London. It was a humbling experience. You go from being the best player in your hometown to being pretty average. But I learned a lot and got transferred to Spain where I played for a season. Eventuall, I came back to England, went back to school and played for a semi-pro team before acting took over."
5. He Is A Big Elvis Presley Fan
Elvis Presley died almost 15 years before Alex was born. Still, The King's music still managed to have a big impact on Alex. He says that he was "obsessed" with Elvis when he was growing up and that's partly why he was interested in taking the role in Forever My Girl.
6. He Likes To Fall In Love With His Scripts
Alex doesn't have a complex process for deciding which roles he'd like to take. For him, it's as simple as taking on the scripts that he falls in love with. He admits that this may be a little "cheesy," but says that working on scripts he loves inspires him to bring his absolute best to his roles.
7. If He Wasn't Acting He'd Be Traveling
Outside of acting, the only thing Alex was ever really passionate about doing was playing soccer. He's not entirely sure what he would be doing if he hadn't chosen to act, but he does know that it would involve traveling. He imagines that he would simply travel around the world and pick up odd jobs here and there to make money.
8. He's A Dad Dog
Dog people will be pleased to know that Alex Roe is the proud father of an adorable black lab named Sonny. When Alex first got Sonny he was a tiny little puppy. Now Sonny has reached his full size and enjoys hanging outside and doing tricks with his human.
9. He's Not A Huge Fan Of Social Media
Alex Roe is on social media, but that doesn't mean he likes it. He's a firm believer that people need to spend more time out living their lives and less times scrolling through social media posts. In his Instagram bio, he dubs himself an "Instagram Rookie" which is somewhat evident by the fact that he only has a total of 35 posts.
10. He Doesn't Desire To Be Famous
It's easy to assume that actors enjoy being celebrities, but that isn't always the case. Alex Roe is a prime example of someone who just acts because he loves it. He couldn't care less about the fame. During an interview with Go London, Alex said, "I have no desire to be famous, definitely not. It would be lovely to sit under the radar and make good movies and have just enough recognition so that you could book jobs, but not so that it affects your life."