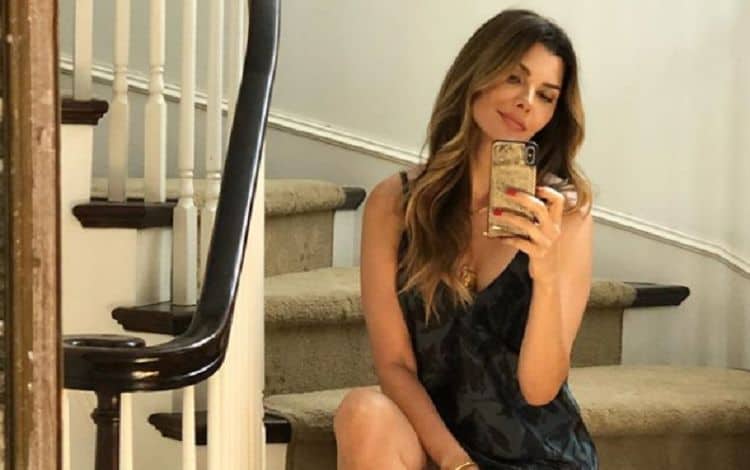 From the late 90s to the mid 2000s, Ali Landry appeared to be one of the entertainment industry's brightest rising stars. She was beautiful, smart, and talented and people just couldn't get enough of her. From beauty pageants to commercials and TV shows, there was a good stretch of time where it seemed like she was everywhere. However, shortly after 2006, we began to see less and less of Ali. People naturally assumed that things with her career were starting to fizzle out. In the years since, lots of people have wondered whatever happened to Ali. Despite having her fair share of ups and downs, Ali is still doing her thing. However, that 'thing' looks a little different these days. Keep reading for 10 things you didn't know about Ali Landry.
1. Her Marriage To Mario Lopez Was Annulled
If you followed Ali Landry's career during the 2000s, you may remember that she dated former Saved by the Bell star, Mario Lopez. After a six year relationship, the couple got married in a beautiful ceremony in Mexico. In a huge turn of events, they annulled their marriage just two weeks later after Ali learned that Mario cheated on her during his bachelor party.
2. She Is A Trained Dancer
Most people are familiar with Ali for being a pageant queen, a model, and an actress, but she is also a talented dancer. She took ballet, tap, and jazz for about 15 years. It doesn't look like she dances much anymore, but we have a strong feeling that she hasn't lost a step.
3. She's A Wife And Mother
Ali was probably devastated when things between her and Mario Lopez didn't work out, but as they say, everything happens for a reason. She went on to marry director Alejandro Monteverde  in 2006 and the couple has three beautiful children together. She and Alejandro even made a movie together called Bella.
4. Her TV Debut Was In Clueless
Most people are familiar with 1995 film Clueless, but many people tend to forget there was also a short lived TV series based on the movie. Ali made her first TV appearance as an actress in an episode of the sitcom Clueless in 1997. She had a very small role as a massage therapist named Tiffany.
5. She's A Big Advocate For Child Safety
Child safety is one of the things Ali has spent a lot of time focusing on since taking a step back from the spotlight. She is especially passionate about car seat safety and she has even gone through a car seat certification program. Ali enjoys sharing her knowledge with other parents.
6. Her Family Suffered A Very Big Tragedy
In 2015, Ali and her husband suffered an unthinkable tragedy when her husband's father and brother were found dead in Mexico. According to news stories on the incident, both men had been kidnapped in early September and were found dead later that month. In November of that year, six people were arrested in connection with the crimes.
7. She Suffers From Arthritis
When most people think of arthritis they tend to associate it as an ailment that only affects older people, however, that isn't always the case. There are many people who suffer from arthritis before even reaching middle age, and Ali is one of those people. After being injured in a car accident in her 20s, giving birth to three children, and being a mother, Ali was diagnosed with arthritic in her spine. Through a treatment using stem cells, Ali was able to improve her quality of life.
8. She Is Very Adventurous
Due to her good looks, some people may be quick to assume that Ali is a dainty person who never wants to have a hair out of place, but that couldn't be any further from the truth. Ali is very adventurous and she loves to try new things and do fun activities. Some of her favorite things to do include camping, hiking, and bike riding.
9. She's A Blogger
Ali is the proud owner of a blog/brand called Re/Shape. Through the website, she shares helpful information on things like health, fitness, and beauty. Through her content, she hopes to show her audience that "Its never too late to RE/SHAPE an area of your life that no longer serves you. Heart. Mind. Soul. Health."
10. She's From Louisiana
Ali was born and raised in a small town in Louisiana called Cecilia. She went to Cecilia High School where she was a member of the cheerleading squad. Ali went on to enroll in college at the University of Southwestern Louisiana which is now the University of Louisiana at Lafayette. She earned a bachelor's degree in mass communication.