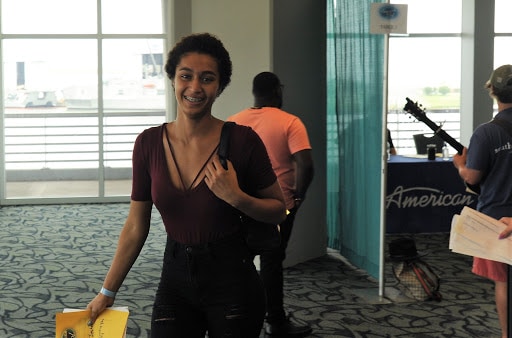 Ariana Jester is not yet a household name, but she will be sooner rather than later. Many people already have her pegged as the next American Idol if her Mobile, Alabama audition is any indication of her skill. She belted out the haunting lyrics of the late Whitney Houston's 'I will always love you,' with such grace and such beauty that the judges gave her a standing ovation in the audition room. She may be only 19 years of age, but she's truly a talented singer and performer, and we don't doubt that she will go all the way. And, since we are talking about her already, we think you might want to get to know the next most famous singer in America.
1. She's a Tampa Girl
She and her family reside in the lovely waterside city of Tampa in the sunshine state. The area is a big one, and we are not sure where specifically in Tampa she lived, but we know that she graduated from high school in Fort Walton Beach in 2019, so her family did not stay in their native Tampa her entire life. We just don't know how long she was there, when she moved, and if she plans on going back at any point.
2. Idol Wasn't her First Audition
Believe it or not, she's not a first timer around here. She has also auditioned for other shows, but they didn't see her potential the same way it was viewed when she auditioned for Idol. She also tried to make it big on "America's Got Talent," and "The Voice," and no one saw enough in her to let her get any further. We are shocked by this after hearing her sing the songs that she did, and we think that she is someone who they will look back at and shake their heads with regret when she's a household name.
3. She's Got a GoFundMe Page
She's only raised $1,000 so far, but she's looking to raise three times that. She needs to have the income because she's currently unable to work as she tries to get through her dreams in Hollywood, but she still has to pay for her life at home. She's still trying to raise some money so that she can stay there and pursue the things that are her calling in life, but she cannot give up her responsibilities at home just in case things don't work out for her in Hollywood.
4. Even the People Outside the Audition Heard Her
Outside the audition room where the crowds hang out waiting on their turn, it's loud. It's so loud that most people cannot hear what is going on inside the room where the auditions are being held. However, her beautiful voice cut right through all the chatter and silenced the entire room — probably a first — and even everyone outside stood up and clapped for her when she was done. If that doesn't tell you how good she is, nothing will.
5. She's Got a YouTube Page
She had it before she became famous, but you can see some of her work there if you bother to visit. She likes to share things from her life, and she says she wants to be a performer so she can spend her life singing. It's something she's going to do with her life, and no one will stop her.
6. She's Top 20
Rumor has it that she's going to continue to progress through the show and into the Top 20 where she will probably continue to move on in the rounds where there are so many talented singers. She's good enough that she can make this work, but will her age work against her when things are going to be a little easier for those who are a little older and more accustomed to doing things at a more maniacal pace? She's a recent high school graduate who doesn't have much experience with days this long, so it might not be her thing.
7. She Sang A Trio of Songs
When she auditioned, she began with a song from Beyonce, moved into a Jackson 5 hit, and then finished strong with Houston's most famous song. She did what she knew would capture the judges' attention and also allow her to show off her immense range at the same time. All three songs she sang are a bit different, and each one allowed her to work harder to show off what she's good at doing.
8. She's An Early Standout
Judges called her an early standout, but we think she was more than that. We think she was the biggest standout in the auditions. No one else's audition gave anyone the desire to stand up and clap for them both inside and outside the audition room. Her voice is so good, and we think that she's going to win.
9. She's Got Hot Competition
So far, we know that at least four of the people who are moving on with her to the top 20 are from the show before. Some of them have even made it this far in the past. There are a few people who had to depart of their own accord because of personal reasons, and they were given a second chance to come back and show off their skills in comparison to those who made it for the first time this year. It's a lot for her to deal with, but we think she's got this.
10. She's Excited
If there is one thing she is feeling right now, it is excitement. She's got her whole life in front of her, but she is already realizing her dreams. At the young age of 19, she's already working on becoming a famous singer, and she will probably already move on with that even if she does not win. Someone, somewhere is a big enough fan that they will want to sigh her and work with her regardless whether she gets to take home the title.