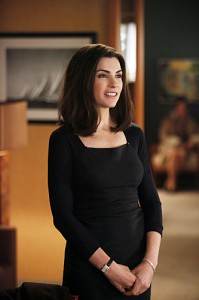 Last week The Good Wife ended the episode on a devastating note; Alicia (Julianna Margulies) discovered that her husband, Peter (Chris Noth), had had an affair with his onetime co-worker and her now best friend Kalinda (Archie Panjabi) two years ago. The pain that was etched over Alicia's face means that this news could be the most devastating bombshell that has landed on this marriage, which had finally seemed to recover from the previous extra martial affairs that Peter committed.
Is there any way their marriage can come back from this? Is Alicia and Kalinda's friendship over? What will Alicia do next? Well, we have some time to speculate as the next new episode won't air till May 3rd (yep they love to drop the big bombshell before a break in episodes), so ahead are some of the possibilities of what this news could mean for these characters:
Alicia will seek comfort in Will.
Last season when Alicia and Peter had a huge argument it was Will (Josh Charles) who Alicia turned to (this was thwarted by Zach injuring himself to stop his father going back to prison after breaking house arrest rules). The Alicia/Will relationship has been put on the back burner of late, though the issue of the unheard voicemail from Will to Alicia is still lurking which should hopefully get addressed before the seasons end and there is also Will's relationship with Tammy (Elizabeth Reaser) to be considered. He has just asked her to not got to London for her career but to stay in Chicago with him, marking a committed attitude for this once casual union, though this was pre-empted perhaps by the death of former business partner Stern and a desire to not be alone.
It is clear from how Will was watching Alicia's television interview in the last episode that he still has feelings for her, and when he told Kalinda that he thought she was fantastic Kalinda's response for Will to tell Alicia seemed like a way for her to divert Alicia from Peter and towards Will. I don't think Kalinda's reasons for doing this was because of jealousy but was a way to shed some of the guilt that she obviously feels about her own past actions. She has always been quite pro Alicia/Will and it is all the more curious what her motivations are for this now that the Kalinda/Peter dalliance has been revealed, though I suspect that she can see that Will and Alicia would work well as a couple.
The betrayal that this revelation will cause is high but I'm not sure if Alicia will want to enact her revenge by jumping in to bed with Will, mainly because she cares about him a great deal and I can't see her using him in this way. Also as it has been pointed out she does have a certain perfection to up hold in these matters and so to stoop as low as her husband would go against how Alicia has composed herself so far in the series.
She will help Wiley with his investigation.
After seeing how Andrew Wiley (Tim Guinee) refused to let this case go and became more persistent as Cary (Matt Czuchry) tried to get him to drop it, will Alicia's reaction provoke him to try and dig further? And if he does will Alicia help? The election has now been won and so the leverage that this information has could still impact on Peter's second time as DA as well as any further political aspirations that Peter still has. It is unlikely that his career could survive a second political scandal, especially another one that could land him in jail again.
I can't imagine Alicia aiding Wiley, but not because of Peter but down to how much her children have been through because of their fathers mistakes. We have seen how protective she is of her children and their exposure to the press, so it seems unlikely that even if she wanted to hurt Peter's career she wouldn't do it in such a way that the kids would become collateral damage and have to endure more scandal.
She will seek solace in Eli.
I don't mean this in a romantic sense but from a business one; Eli (Alan Cumming) obviously thinks very highly of how Alicia conducts herself and knowing that the public connects so well to the female Florrick could perhaps have him switch his allegiance, if Alicia ever decides to step in to the political realm. The bond between the two has definitely grown this season and the moment that stood out as a key turning point was that Eli really didn't try to pressure her in to giving the key TV interview, even though he knew it would help win them the election.
The other point in this last episode that showed a respect between the two was during the interview prep as he truly got to see how Alicia felt about this whole scandal and how it took so long to regain the trust for her husband again. The character of Eli has been well developed this season, there is no question that he can be unscrupulous in his political dealings but the softer side to Eli this year, particularly in regards to Natalie Flores (America Ferrera) has been much appreciated and serves to show that he might be a useful ally to Alicia if/when this scandal comes out.
She will divorce Peter.
Will this be the affair that breaks the Florrick marriage? We know that she consulted a divorce lawyer last time so what is to stop Alicia from going through with it this time? If she did decide this route I hope she would go in house (would she get a discount?) to the amazing David Lee (Zach Grenier). Once again it is their kids that might stop this from happening again, though living with unhappy parents in separate bedrooms again wouldn't be the best thing for Zach (Graham Phillips) and Grace (Mackenzie Vega). Both kids are relatively grounded and even though this would cause a disruption in their lives it is not like they have had the most scandal free teen years in regards to their father.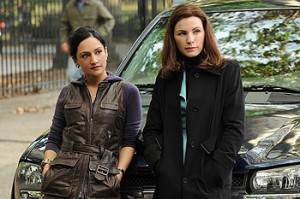 She will take a baseball bat to Kalinda's and Peter's cars.
This really isn't Alicia's style to react in such a explosive way but I think emotionally Alicia will do some damage to Kalinda, and I think it will be a long time before we see these two happily doing some shots together. Does this spell the end of their friendship completely? It's hard to say but I think it is clear that if Kalinda had been the one to tell Alicia of this one night stand, then the betrayal would have felt less like a punch to the gut and they might have been able to move on quicker.
After all, Kalinda didn't know Alicia then (though she would have known that Peter was married with kids) so she would have had no loyalty to her but the fact that she developed such a close friendship with Alicia since feels like more of a betrayal. Last season Alicia even asked her if she had slept with her husband, giving her a time to 'fess up, a time that has long since passed. It is this relationship that I will be sad to see dissolve for now and not that of Alicia and Peter, as the friendship between these two women has such a warmth despite the big differences in their characters and how they portray themselves. I think this will be felt at the firm as the tension between the two women will surely spill over in to their professional lives.
It also raises the question of where Cary fits in to all this, after all he and Kalinda have become close this season as he has gone to lengths to protect her and there is definitely a chemistry between the two. Has his opinion changed for the worse after some of the mystery has disappeared and she is just as much of a screw up as every one else? Kalinda didn't get to smooth things out for Cary before the bombshell dropped like he asked her to, so what this means for his current job is unclear, but he is clearly worried that it could be in jeopardy.
What scenario do you think will happen? Is Alicia going to go against her usual quite, dignified character and go on full blown media offensive or is she likely to take the high road and do it all in private? Do you want to see her get revenge by sleeping with Will? Like me are you more concerned for her friendship with Kalinda than her marriage with Peter? Let us know in the comments below and I look forward to the show returning on Tuesday May 3rd with the ominously titled episode "In Sickness".