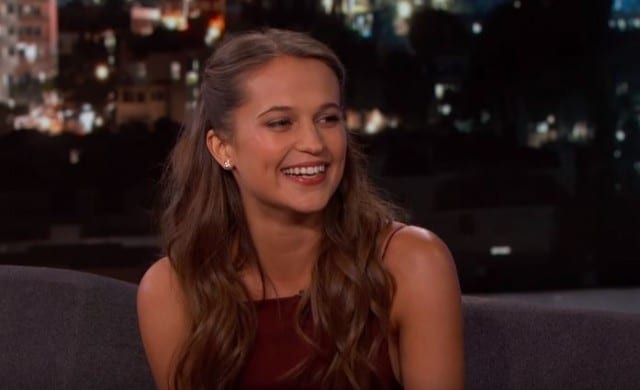 Alicia Vikander, who is nominated for an Oscar for her work in The Danish Girl and also received rave reviews for her performance in the Oscar-nominated Ex Machina, stopped by Jimmy Kimmel Live last night to talk about the Academy Awards and much more with Jimmy Kimmel. One of the things that came up during the pair's discussion, since Vikander is from Sweden, is The Swedish Chef, and Vikander revealed a harsh truth about the Muppet character.
The conversation started after Kimmel asked Vikander if everyone is Sweden speaks English. The two of them then began discussing the different accents of Americans before Vikander told Kimmel that Swedish people can have various accents as well.
"Isn't that funny?" Kimmel said. "Because really our knowledge of Sweden and Swedish accents comes from a Muppet who cooks."
"Yeah, but for me, he actually sounds more Norwegian," Vikander said, only after doing a priceless impression of The Swedish Chef.
And in addition to revealing the true accent of The Swedish Chef, Vikander also confirmed another rumor that Kimmel himself has been pushing for years: Matt Damon is terrible. She joked about how insufferable her Jason Bourne co-star was, and Kimmel thanked her for finally confirming what he's always known.
"I'm so happy that you actually see him," she said to Kimmel about Damon. "You know, you're telling his true colors."
Watch Alicia Vikander talk more about Damon, the Oscars, and her parents in the videos below:
[Photo via YouTube]