Syfy's hit action-drama, Alphas, adds a beguiling new team member tonight in the form of petite, mysterious Kat. Talented Erin Way (Detroit 1-8-7, When You Find Me) plays young loner Kat whose Alpha ability is a touch-based memory skill, like an instant download, that unfortunately wipes away old memories to make way for the new. Malik Yoba (a.k.a. Agent Bill Harken) and the effulgent Way recently spoke with press, on separate dates, as the show neared the end of filming for Season Two.
In "Alpha Dogs" we peer into the underground world of Alpha fight clubs. Malik talks about the challenge of executing such a physical episode, "I had 3 fight scenes in a week. It was very physical. I remember being really tired and at one point saying, "I think I'm going to cry now." I get beat up quite a few times which I don't really appreciate. But, you know, whatever the challenges are we meet them." I asked if any additional stunt coordinators or fight choreographers were brought in for the fight club sequences? "No need," clarified Yoba, "We use Jamie Jones (Shoot 'Em Up, X-Men) as our Stunt Coordinator. You could do a whole series on that dude and his family. His wife and four kids are actually all stunt people and the entire family works on the show, which is pretty amazing. But yeah, Jamie did all the choreography and I also contribute. I practiced martial arts growing up so I try to incorporate some of that stuff. Last season when I did that flying kick to bust through that door, that was my idea. For me, it's a lot of fun. Jamie's very collaborative in terms of the physical challenges and how much I want to put in or how much I want to do. He's a great guy."
Tonight, trained thespian and former bunhead Erin Way breathes life into new character Kat; a tough, feminine, free-spirit without a past who makes a fast ally of Agent Harken. Yoba shares, "Erin Way is lovely. We do some good stuff together. After they meet, and for the rest of the season, Bill's got her back. Bill definitely looks out for her. He, more than anyone, takes Kat under his wing and that relationship pays off later in the season when it's really needed." Way, an exuberant fan of Star Wars, The Matrix, Joss Whedon and Buffy, describes the special skill she learned for this episode as her No.1 favorite. "I'm a very tiny person, and Harken is a very large person, and we have to fight each other in this episode. So I learned a form of kickboxing that instead of relying on size, relies on pressure points and using one's own weight against an opponent's weak spots. It was interesting and cool to learn that a tiny little thing like me, using the proper skills, could actually win against somebody twice my size. It was pretty cool! Kickboxing was my #1 favorite because I got to do the most in-depth training of it before starting on my first episode – about a week – it was brutal. I've never been so sore in my entire life." Indeed, Kat's martial arts knowledge is what facilitates her and Harken's unlikely friendship, "Lately Bill's getting exhausted and he's unable to stay amped up for very long without totally wearing himself out. It's becoming a bit problematic for him. Kat, through martial arts experience and training, is able to kind of teach him how to counteract that through a combination of trusting himself and his ability. Trusting that it's there and that he doesn't need to work so hard and stress out about it. He needs to trust his body more. It's interesting, I think it's the key to what bonds the two of them as characters and why he takes such a shine to her. She spots it right away and sort of takes him under her wing a little bit. It's a cool little twist you wouldn't necessarily expect – the two of them together. It's a fun friendship that they develop over that." This reporter's amused that separately, roughly a week apart, Erin and Malik both thought their characters took the other's under their wing(s).
Bill and Kat both also share unique relationships with the team's human antennae, Gary Bell (played by Ryan Cartwright). Malik confides, "Bill secretly loves Gary like a little brother. Even though he doesn't always show it, but that's actually one of my favorite beats to play with Ryan. We actually live next door to each other in Toronto. We spend time together and he's a friend as well, so, I think he's brilliant as Gary. He comes up with some really funny stuff and we always have a good time." Detailing Kat's relationship with Gary, Erin relays [giggling], "When our characters meet, in the beginning, he doesn't like me at all. In fact, I think I rub him the wrong way more than anybody, and that's to be expected. Gary is somebody that relies upon routine and protocol and he doesn't enjoy or appreciate people breaking rules or breaking his routine. Kat's the type of person that really doesn't care about the rules and basically does everything people tell her not to do. She's constantly touching Gary and trying to hug Gary and it's very upsetting to him, he doesn't like it at all. But along with treating him and his condition irreverently, just treating him like anybody else, she also trusts him with tasks others wouldn't and he grows to like her a little bit because of that. By season's end, I think we're in a better place but with the occasional argument. I think we're going to be just fine."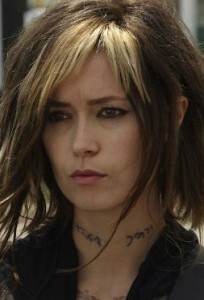 Alphas' second season will feature Sean Astin, Lauren Holly and Summer Glau (a.k.a. Skylar Adams) as pivotal guest stars. I was curious if Erin shot many scenes with Glau, and if they'd talked about being former ballerinas? "We've talked quite a bit about it. We've worked together now for a little bit and I'm enjoying it immensely. I met her for the first time several weeks ago and was extremely excited because I'm a giant Firefly fan. She's one of the sweetest, most kindest girls that I've ever met in my life. She's a lovely, lovely soul. At one point, someone mentioned that she was going to go do a benefit for some ballet company and that was the first I heard about her ballet background. If I'd really observed her body, though, I would've guessed (it) because she definitely still carries herself like a dancer." Continuing, "We've had lots of conversations about our favorite ballets and what we love about it. We both have very similar reasons for choosing not to continue with it too. Just last night we were joking about various combinations that you have to do across the room in ballet class: which ones we hated and which ones we enjoyed. We have that very much in common." A ballerina's skillset doesn't automatically make fight choreography any easier, in fact the opposite is closer to true. "My dancer background helps in that I'm coordinated, but the challenge of fight choreography for a dancer is actually twofold. First, it's completely counter-intuitive to how a dancer moves and holds their body. That's the first thing that I found challenging. How a boxer stands, moves and places their center of balance is pretty much the polar opposite from a dancer, however, what did come in handy was the coordination factor. I'm still relatively flexible which helps with the kicking and things of that sort. Normally they teach you fight scene choreography maybe the day before shooting but often on the same day. So the ability to learn choreography very quickly is key. Otherwise, it was pretty much a retraining of my body, learning not to hold myself like a ballerina."
Erin is dear friends with another thespian I greatly admire, the indefatigable Bryce Dallas Howard. BDH directed her in the short film, When You Find Me (2011). I asked her to indulge my off-topic fandom for a bit and dish about her pal and recent collaborator? "She's a very great friend of mine and I admire her to no end. I've had the privilege of being in classes with her – we study with the same woman – and also having her at the directing helm. Both were different but equally enjoyable. She's a force, for sure, and one of my favorite directors I've worked with. She's extremely insightful, intelligent, hard-working, unphasable and just so cool, calm and collected on set. It's kind of incredible. When I worked with her she was hugely pregnant and it was in the summer so it was roasting hot, and still, she managed to stay the most level-headed of anybody. So yeah, I'm a little bit in awe of her and her abilities. She's amazing!" After expressing my opinion that Bryce is eminently graceful while remaining simultaneously down-to-earth, Erin appropriately noted, "Her and Summer (Glau) have that in common. They each share both those qualities. It's an amazing combination to find in a person and maybe explains why they've both been so successful."
Yoba is similarly inspired by his friend (and past director) Tyler Perry's ability to blaze trails in the face of daunting adversity. "I knew Tyler before he did his first films. One thing to know about him is that he's not discouraged by what he doesn't know. It doesn't matter that he didn't go to film school, it doesn't matter that he didn't get a degree in writing from someplace. Despite everything he doesn't know, from a traditional filmmaking perspective, he just does it anyway. And he wins. That's one of the things I love about Tyler Perry, he's somebody who wasn't even in the game who changed the game. You know, we can't keep talking about the opportunities we don't have if we don't work really hard to create our own luck." Adding, "My father always said "Build your own generator so when they turn off the power you still have light.""
A multi-talented artist, entrepreneur and healer whose been in the game for over twenty years, Malik is presently focused on directing a film adaptation of his traveling musical stageplay, What's on the Hearts of Men. The film is based on the heralded production he directed, co-starred in, co-produced and co-wrote with his brother over a decade ago. Pressed on whether or not Harken might sing on Alphas, Yoba reveals, "I actually did get some music placed on the show. But it wasn't my own music, it was some artists that I'm currently working with." Malik also plans to do some directing on Alphas' next season. "This has been one of the highlights of my career," he warmly conveys, "I really love doing this show. I love the people I work with. I love shooting in Toronto. And I think we have an opportunity to really build a brand that can be around for a while. It already seems to mean something to people."
As Alphas' new absent-minded bad girl, look for Kat to inject a distinctly non-chalant, lighthearted mischievousness to the group. Erin elaborates, "Kat has a pretty good sense of humor about things. No matter what the situation is she tends to find something funny about it, whereas the team tends to be a little on the serious side. She doesn't really care about their rules and protocols or how you're supposed to behave and makes fun of them for being so serious. She doesn't get too heady about stuff, she essentially just comes in and sort of mixes it up. She ruffles everybody's feathers a little bit which offers some comic-relief but also, maybe, helps some of the characters find a different perspective on their situations. In that sense, I'd say she compliments each of the different team members in a different way, but all with the same kind of irreverence that she approaches life with." Poignantly reminding, "Kat, because of the downside of her ability and the way she's chosen to survive it, is just very much about living in the moment. She's simply not burdened by anything in her past, really, because she forgets about everything."
Through the rest of the summer and in upcoming months, don't forget to watch Erin Way in the films Not That Funny (co-starring Tony Hale and Brigid Brannagh), Doonby (starring John Schneider) and The Collection (co-starring Josh Stewart and Navi Rawat) all coming soon.
Tune-in to see Malik do battle with Erin on Alphas tonight @ 10/9c! Enjoy a clip from the episode below, and, unlock a Gary Bell sticker for checking-in at GetGlue while you watch the team's action-packed new beginning, only on Syfy!