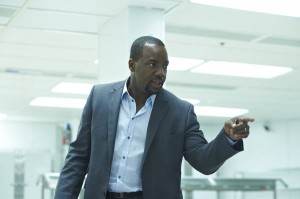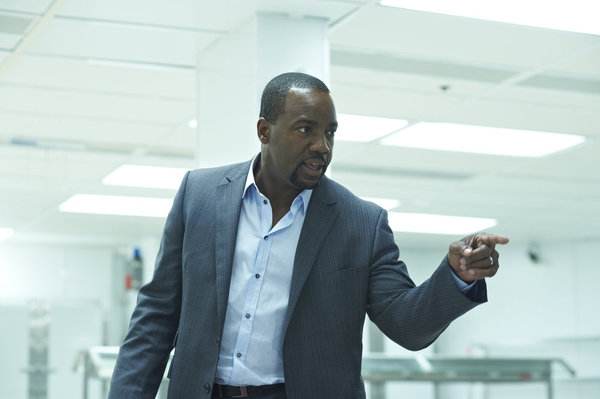 The unveiling of the alphas by Dr. Rosen at the end of last season was a dangerous gamble that may not pay off for the team. By exposing a population of people with extraordinary gifts, Rosen left them all open to capture, the slightest hint of power potentially turning the country into one giant Binghamton facility. Thus, on the second season of Alphas, you'd think that the alphas would continue to keep their profile, at least until the storm blew over.
Not so, as the season premiere sneak peek indicates. With Cameron working at a local supermarket and Bill passing through, the tabloid in his hand indicating that the spotlight is white-hot, a robbery ensues, led by a physically strong alpha and an alpha that conducts electricity. Now the two have to find a way to alert the rest of the team and overpower the other two alphas without raising suspicion of their abilities or getting themselves injured. But they may have bigger worries if it's found out who is behind the robbery and what they can do; alphas already have the attention of the public at-large and any incident that paints them as dangerous or incapable of control could be used as motivation for their capture or execution.
The second season of Alphas premieres Monday, July 23rd at 10:00 on Syfy, where it'll be following the season premiere of Warehouse 13. You can check out a list of recurring/guest characters this season, including the return of alphas we've already met, here.
Do you think this incident will be connected to the alphas? Could the two alphas that are attempting the robbery be targeting the store specifically due to Hicks? Can the team save the day without drawing too much attention to their abilities?