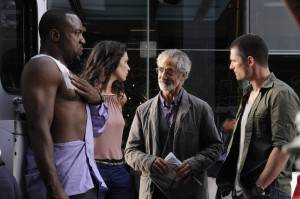 Syfy's newest summer show, Alphas, will be premiering next week on Monday, July 11 at 10:00 p.m. The show stars David Strathairn (Temple Grandin, Good Night, and Good Luck), Malik Yoba (New York Undercover, Why Did I Get Married?), Warren Christie (October Road), Laura Mennell (Watchmen), Ryan Cartwright (Mad Men, Bones) and Azita Ghanizada (Castle).
From writers Zak Penn (The Avengers, X-Men: The Last Stand) and Michael Karnow, Alphas is about five ordinary people who actually have the ability to "stretch the capabilities of the human mind", which gives them superhuman physical and mental abilities. Together, they form a team of Alphas.
Dr. Lee Rosen (David Strathairn) is a prominent neurology and psychiatrist and expert in the Alpha phenomena. He leads the team, which investigates cases that seek to identify other Alphas, while also attempting to prevent inter-personal conflict arising out of their own personality differences.
Below are two sneak peeks from Alpha's season premiere, as well as a trailer for the series, airing on Syfy on July 11.
clarissa @ tvovermind.com
twitter.com/clarissa373
twitter.com/tvovermind