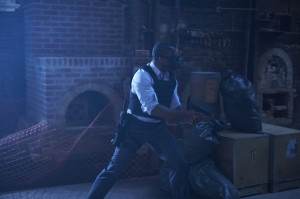 When Alphas returns for its second season, a lot will have changed for Dr. Rosen and his team of gifted individuals. After Rosen voluntarily exposed them on national television, pulling the veil from the secret world in which they inhabited, the team has effectively been blown up; old habits have come back, relationships have withered, and Binghamton has become home to the once regarded doctor. But the distance between the team isn't keeping them out of the path of other alphas (or the federal government), as Syfy has announced the guest stars for season two.
Returning for another appearance are Summer Glau as electronic mastermind alpha Skylar; John Pyper-Ferguson as "perfect alpha" Stanton Parish; Kathleen Munroe as Rosen's daughter Dani (an empath alpha); and Mahershala Ali as Nathan Clay. Meanwhile, making their Alphas debut are Sean Astin, playing an alpha named Roland with the ability to absorb memories; C. Thomas Howell, portraying speedy revenge-seeking alpha Eli; Lauren Holly as a Senator with ties to a member of the alphas team; Steve Byers, playing a member of Nathan Clay's tactical team; Kandyse McClure as an alpha that reads minds through touch; and Noah Reid, portraying a man that thinks his dead sister is alive and in danger.
If that wasn't enough, the alpha team will be growing, with the addition of Kat (Erin Way), an alpha with perfect muscle memory but temporary personal memory. Can she provide the glue needed to keep the team together through this type of adversity?
The second season of Alphas premieres Monday, July 23rd at 10:00 on Syfy. You can check out spoilers and episode titles for the first eight episodes on Alphas TV here and here.
What do you think about the season two line-up of Alphas? Are there any other season one guest stars/recurring characters that you'd like to see return? How will the team get Rosen out of Binghamton without anyone noticing?