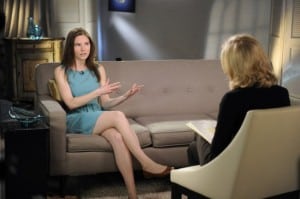 Whatever you might think of Amanda Knox, there's no denying that this girl gives a good interview, particularly when she's being interviewed by a news program that is placing her in a rather favorable light.
Knox spoke to Diane Sawyer tonight in an exclusive ABC interview that also coincided with the release of her new memoir "Waiting to Be Head" (check it out on Amazon). It's clear that ABC had a great deal of compassion for Knox…compassion that is deserved if she didn't actually commit the murder she is accused of committing. I can't speak to her innocence or guilty, but viewers might be interested in ABC's report, which brings up issues of tainted evidence and unreliable witnesses. Cases like this – ones that become international tabloid fodder – seem to become less about the pursuit of justice and simply devolve into more and more sensational headlines. The good news is that while ABC has an obvious sympathy in the interview, it doesn't seek to slander one of the largest victims: Meredith Kercher.
Knox was an ideal interviewee. She remained composed and well-spoken throughout, but got choked up recounting her prison stay or shows of support from strangers and family members alike.
Given the fact that her case is going to be retried in an Italian court even after an acquittal, you might wonder whether giving an interview such as this could hurt her case. All things considered, I thought she nailed the interview in terms of issues of guilt or innocence. Even when being questioned about allegedly wiping away her DNA at the crime scene, she gave a pretty solid response about how such a thing is scientifically impossible instead of simply denying it outright.
Below is an excerpt from the Amanda Knox interview. If you can catch the west coast airing at 10:00 p.m. PT on ABC, it's worth a watch.