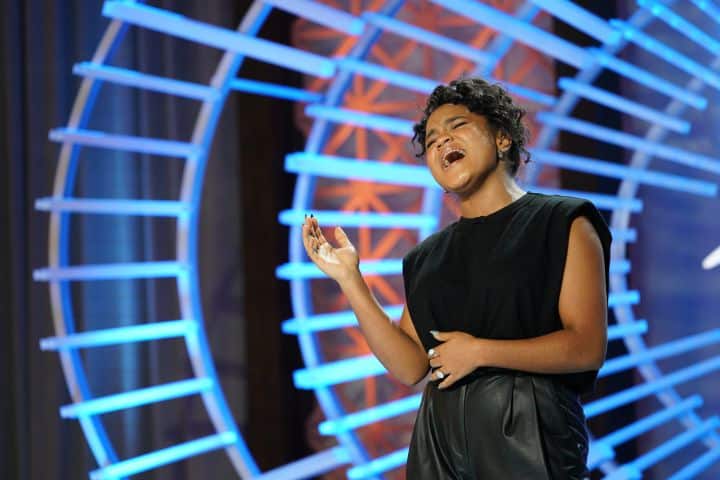 Amanda Mena has been singing for most of her life, and it's clear that she has a natural gift. Her voice carries power and strength that are impossible to ignore. When she stepped in the audition room at American Idol, it was instantly clear that she came to shut it down. After performing a cover of "Golden Slumbers" by The Beatles, the judges were absolutely speechless. Needless to say, Amanda earned a Golden Ticket to Hollywood, and there are a lot of people who already have her pegged as one of the favorites to win the competition. Although making it to the end of the season won't be easy, Amanda is ready to do whatever it takes. Here are 10 things you didn't know about American Idol contestant, Amanda Mena.
1. She Lived In Dominican Republic
Amanda was born in Massachusetts, but she moved to Dominican Republic when she was young where she spent four years being raised by her grandmother. She is very proud of her Dominican roots and the country's culture has played a big role in her music. When she returned to the United States at a young age, she felt a little out of place because she didn't know English.
2. She Was On America's Got Talent
American Idol isn't the first time Amanda is trying her luck on a singing competition show. A few years ago, she was on America's Got Talent where she earned a Golden Buzzer from Mel B which meant she was automatically included in the quarter finals. Unfortunately, she didn't receive enough votes to make it to the finals.
3. She Performs In Spanish And English
As mentioned earlier, Amanda is bilingual and she incorporates both languages into her music. Amanda has released several singles in Spanish over the last six years. She has also released a some songs in English. Hopefully we will get a chance to hear her sing in both languages during the competition.
4. She's Still In High School
The fact that Amanda is just a teenager makes her skill set even more impressive. Her vocal ability is more powerful than some people who are twice her age. She is currently still in high school, but we couldn't find any information on what she plans to do after graduation.
5. She Has A Large Social Media Following
Amanda is still pretty early on in her career, but she's already built a solid fan base. As a member of Gen Z she knows all about the importance of having a strong online presence. At the moment, she has 156,000 followers on Instagram and there's no doubt that her following is going to increase during her time on American Idol.
6. She Loves Being Near The Water
As someone who has lived in Dominican Republic, Amanda knows what it's like to have access to beautiful beaches. She loves being by the water and going swimming and boating. Unfortunately, life in Massachusetts doesn't offer too much warm weather, but Amanda likes to hit the beach whenever she can.
7. She Loves Connecting With Fans
Having a strong relationship with fans is a vital part of any artist's success and this is something that isn't lost on Amanda. She enjoys getting the opportunity to interact with her fans and it's very common to see her retweeting messages and replying to comments.
8. She Still Gets A Little Nervous
Amanda has performed countless times over the years, and at this point she carries herself like a seasoned vet. Still, however, she gets a little nervous any time she steps on a stage. Still, she always manages to pull it together and she harvests that nervous energy and utilizes it during her performances.
9. She Has A Great Memory
A good memory may not seem like it has any connection to singing, but for Amanda these two things have gone hand in hand. Her ability to recall things, especially song lyrics, is impeccable which has come in very handy when she has had to learn new songs on the fly.
10. She Is Always Looking For Growth
We all know how easy it can be to get complacent, but Amanda has no plans of ever allowing herself to get comfortable. She told Northshore Magazine, "I'm never going to get to a point in my career where I'm going to feel like I'm done. I want to keep growing as an artist, and as a person." So far, Amanda is on the right path and she is constantly taking advantage of opportunities that can take her to the next level.