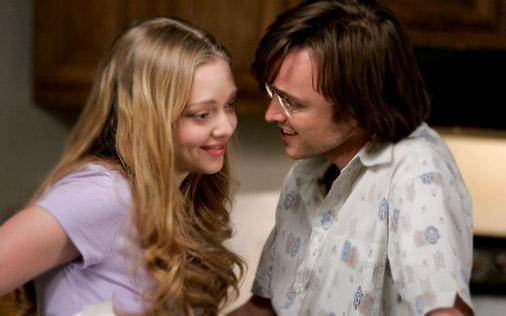 They say you can't go home again but apparently "they" haven't seen Big Love.
As reported by TV Guide, Amanda Seyfried and Aaron Paul are returning to the polygamist drama for its series finale, set to air this March. When last we saw eldest daughter Sarah and husband Scott, they were being ushered off to Portland for new job opportunities and the chance to live a "normal" life away from the drama of Bill, Barb, Nicki, and Margene.
I have to say that I like this move by both actors. Too often, when someone starts out on a show, moves on, and gains success, they tend to forget what got them to that point, so for both Seyfried and Paul to be willing to make an appearance says a lot about them. Granted, one episode won't be enough for the two of them to really get into the mix of what is sure to be a deliciously messy final season, but just the presence of the entire family will make the finale feel that much more complete. While the fourth season of the show wasn't up to the standards of the first three (those seasons are so impeccable that there's no shame in not living up to their excellence), the details being leaked around the final season, which starts January 16th on HBO, are making me extremely excited to see how things wrap up. Since leaving Big Love, Paul has went on to win an Emmy for his role on Breaking Bad and Seyfried has become an in demand leading lady with roles in Dear John and Letters to Juliet.
Where do you think Sarah and Scott will be in their lives when they return to the fold? Are you planning on watching this season of Big Love? Do you think the finale will be good?