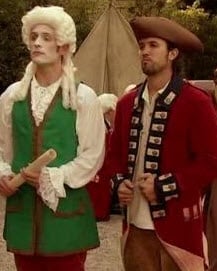 Uhhhh what? That was my first reaction to this news, but maybe it's a better idea than it sounds initially? AMC is known for their fantastic line-up of dramas, but they want to branch into comedy as well, a-la-FX. Their only effort so far was a show called "How to Cheat on Your Wife" which never made it past the pilot, but now they're trying again.
The show is called "We Hate Paul Revere," and is about two colonial guys who do in fact, hate Paul Revere. It's a scripted half hour, and yes, I definitely thought of the Always Sunny Liberty Bell episode immediately. Which was not one of my favorites, incidentally.
Doesn't this seem like a bit…narrow of a concept to you? A colonial comedy is one thing, but basing it entirely about a fictional rivalry with Paul Revere? It's not like most people know much about the guy other than the fact that he warned everyone the British were coming. And you can do that for what, one episode?
The show is from Ethan Sandler and Adrian Wenner from "Whitney" which might be another red flag for some. I'm just not sure this is going to pan out unless they get truly amazing cast members and scripts.