With production on AMC's zombie series The Walking Dead starting last week the network haven't been shy in offering up tantalising scoop, and today is no exception.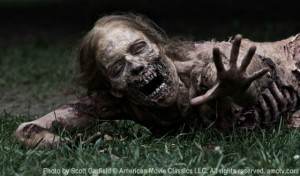 Zombies may appear helpless… but they are dangerous. Need proof? Check out this first production photo released from the set of AMC's The Walking Dead, currently being shot in Atlanta, GA. Creator, Director and Executive Producer Frank Darabont says, "[Special Make-Up FX Artist] Greg Nicotero is absolutely out-doing himself. The work he is doing is beyond what one could hope for. Our Zombies kick ass!"
Following the release of the zombie shot, they delighted amateur zombies all over the world by providing exclusive behind the scenes footage of their Zombie School.
What does it take to transform human beings into members of the walking dead? Some serious training, according to Executive Producer Gale Anne Hurd. Learn how to act like a zombie (and check out some footage of our roamers-in-training) as Hurd, Writer/Director Frank Darabont, Special Make-Up FX Artist Greg Nicotero and Zombie Choreographer Matt Kent walk you through "Zombie School".
The Walking Dead, developed by Frank Darabont from a comic series created by Robert Kirkman, comes to AMC this fall.