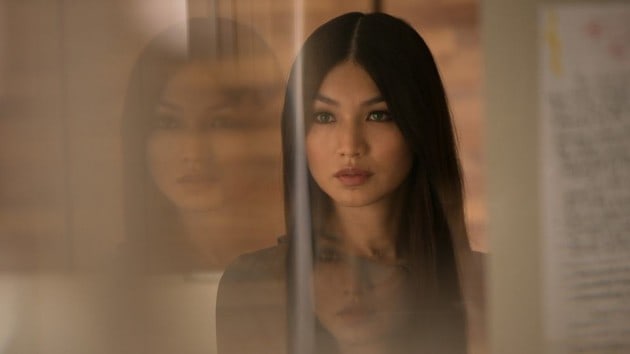 Humans will continue to live on AMC for another year. The futuristic drama, which is a co-production between the network, Channel 4, and Kudos, has been renewed for a second season. Season 2 of Humans will consist of eight episodes and begin production next year.
Season 1 of Humans has averaged 2 million viewers per week (in Live+3 ratings) here in the United States. In England, the show's series premiere was Channel 4's highest-rated originated drama in 20 years.
Humans was created by British writers Sam Vincent and Jonathan Brackley and is based on the award-winning Swedish sci-fi drama Real Humans. The series stars Gemma Chan, Katherine Parkinson, Tom Goodman-Hill, Lucy Carless, Ivanno Jeremiah, Sope Dirisu, Theo Stevenson, Colin Morgan, Neil Maskell, Pixie Davies, Jack Derges, Ruth Bradley, William Hurt, Emily Berrington, Rebecca Front, and Sophie Gooding.
"We're so pleased to announce a second season of Humans and extend our terrific partnership with Channel 4, Kudos and the stellar cast, crew and writers Sam and Jonathan," said Joel Stillerman, president of original programming and development for AMC and Sundance TV. "As one of the year's top new cable series, Humans has been embraced by fans and critics across the U.S. and UK. We're looking forward to continuing this very captivating story and further exploring the show's parallel, Synth-filled world that hits so disturbingly close to home."
"Humans has proved a huge hit with both audiences and critics alike this summer, and we owe a huge debt of gratitude to writers Sam Vincent and Jonathan Brackley and to the team at Kudos for bringing a truly unmissable show to life," said Piers Wenger, Head of Drama at Channel 4. "It also marks a key moment for Channel 4 as we expand our remit for bold and original drama into the international, co-production space. We look forward to working with our partners AMC on season two of Humans and to more Synth-related adventures to come."
Humans'Â Season 1 finale airs this Sunday at 9 p.m. on AMC.
[Photo via AMC]