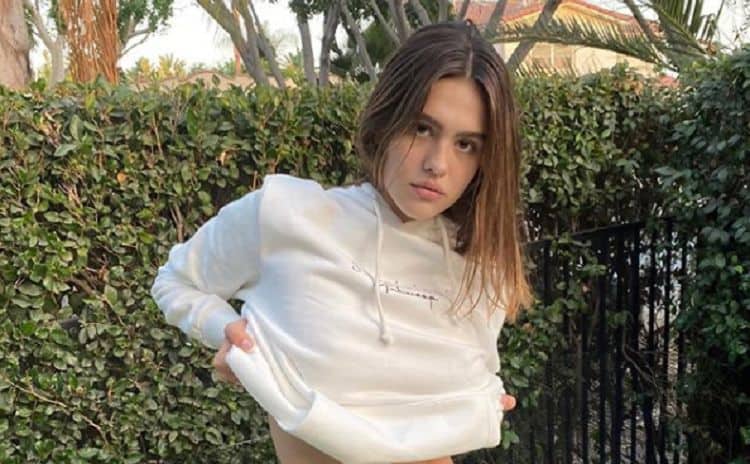 A few months ago Amelia Gray Hamlin was best-known for being a model, but these days there's something else that has her name in the headlines. Recently, Amelia has been linked to Scott Disick, who is most well-known for being Kourtney Kardashian's ex and the father of her children. Apparently, some very detail oriented fans concluded that Scott and Amelia were out to dinner together based on pictures they each posted of a table at a restaurant. While the photos could have been a coincidence or they could have innocently been enjoying a meal together, the rumor mill is already turning and Amelia is right at the center. Continue reading for 10 things you didn't know about Amelia Gray Hamlin.
1. Both Of Her Parents Are Celebrities
Being on the spotlight certainly isn't anything new to Amelia. Both of her parents are people whose names you're probably very familiar with. Her mother is actress and The Real Housewives of Beverly Hills star, Lisa Rinna. Her father is Emmy nominated actor, Harry Hamlin. Amelia's sister, Delilah Belle Hamlin, is also a successful model.
2. She Went To The New School
Since both of her parents had careers in the public eye, Amelia wasn't sure if she wanted to follow in those foot steps. Instead, she once dreamed of becoming a therapist and she enrolled in The New School to study psychology. However, she eventually decided to leave school early to focus on modeling and other interests.
3.  She Went To An All Girls High School
During an interview with Dear Media Studio, Amelia opened up about her upbringing and shared that she attended an all-girls high school. Sadly, her experience at the school was a very negative one and she recalls the atmosphere being very judgemental. Fortunately, she was able to switch schools.
4. She Has Acting Experience
Amelia doesn't seem to have any interest in having a career as an actress, but she does have a little bit of on screen experience. According to IMDB, she has one acting credit for her role in a TV series called Rachel & the TreeSchoolers. She has also appeared on a few episodes of RHOBH with her mom.
5. She Has Worked With Some Big Brands
When people hear that Amelia is a model they may automatically assume that that only includes social media, however, Amelia is the real deal. She is a professional model who is signed with Women 360 Agency. She has also gotten the chance to work with several major brands including Levi's.
6. She Is Almost 20 Years Younger Than Scott Disick
One of the main reasons the news surrounding Amelia's potential connection with Scott Disick is making headlines is because of their huge age difference. Amelia is only 19-years-old while Disick is 37. Of course, this wouldn't be the first time Scott has dated someone significantly younger. His ex-girlfriend, Sofia Richie, is only 22.
7. She Suffered From An Eating Disorder
In 2018, Amelia shared that she's struggled with an eating disorder. In an Instagram post she said, "When I first opened up about my disorder, I did not expect anyone to truly care or respond. The response I got was unimaginable. Some of you congratulate me for healing and seek for help from me. Though, truly, you guys are the reason that I survived."
8. She Still Has IG Photos With Mercer
Fans of RHOBH may remember that Amelia was gushing about dating a 'normal' boy named Mercer Wiederhorn just a few months ago. Since the rumors about Amelia and Scott began to circulate, many have assumed that Amelia and Mercer have parted ways. However, she still has photos of her and Mercer together on her Instagram page. Usually, when people break up the social media photos are one of the first things to go. With that being said though, she hasn't posted a photo with Mercer doesn't appear to have any photos of Amelia on his account.
9. She Loves To Travel
Nothing compares to the experience of getting out and seeing the world, and Amelia has always taken advantage of any chance she gets to travel. As a result, she has been able to visit several different countries over the years including China, Japan, and Italy.
10. She Has A Huge Social Media Following
Amelia may not be as famous as her parents, but she's definitely creating her own lane and her hard work is paying off. She has built a huge social media following on Instagram and she now has more than 687,000 followers. There absolutely no doubt that that number will increase as she continues along her modeling career.