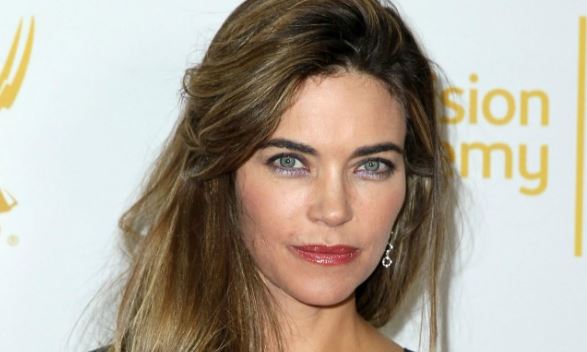 Young and the Restless fans are always watching as Victoria Newman is making mistakes and making things a mess in her own life. She's not one of those characters who always makes the best choices, and she's not one who has to take a lot of responsibility for her actions. Her father, Victor Newman, keeps her out of too much trouble, but her father also makes sure she's miserable as often as not. So that's why we want to know more about the woman behind the role. Amelia Heinle is Victoria Newman, and we're getting to know her better.
1. She's From Arizona
She was born in Phoenix, Arizona. She was born on March 17, 1973. She's a St. Patrick's Day baby, which means she's always got a holiday to celebrate on her birthday. We imagine that made for some fun birthdays when she was a little younger.
2. She Was Married to A Former On-Screen Husband
For many years, she was married to the man who was her husband on television, too. She was married to Thad Luckinbill, who played JT on the show. She's currently doing a story line with him in which he is abusing her and her mother killed him – or so she thought. They were married on television and in real life.
3. She Replaced Another Famous Actress
When Amelia Heinle took the role as Victoria Newman in 2005, she was not taking it over as a new actress in a new role. She was taking it over for the actress who was no longer on the show to play the role. She was taking over for the Bold and the Beautiful's Heather Tom, who played Victoria Newman for many years.
4. She's An Emmy Winner
She's got two Emmy wins for her role as Newman. She won in 2014 and 2015 for her role. She had some great story lines those years, and she was able to play them to perfection, which is why she was nominated and won during those times.
5. She's Been Married Twice
She was married to her former co-star Thad Luckinbill for ten years. They married in 2007 and he filed for divorce from her a few weeks before her birthday in 2017. He was her second husband. Her first husband was Michael Weatherly. They wed in 1995 and divorced only two years later.
6. She Has Three Kids
Her first child, a son, was born in 1996 when she was married to her first husband. She gave birth to her second child in 2007. She had another son. She and her second husband also had a second child together, which was her third child, and it was a little girl. That baby was born in 2009.
7. She Also Starred with Her Former Husband On Another Show
She and Thad Luckinbill were love interest and a married couple on television for a long time, but they also co-starred on a guest spot together on an other show at one point. They were in the "Ghost Whisperer," in 2009. It was the fourth season and the 20th episode of the season.
8. She Marries Her Costars
She likes to marry men who play her love interest on television, which does make us wonder if she can tell the difference between acting and reality. She married Michael Weatherly when he was her co-star and the man she had an on-screen relationship with on a show called "Loving".
9. She Was On Another Soap First
Before she was on the show she's on now, she had a much smaller part on All My Children. She was Mia, and she played the role from 2001 to 2004 when she decided not to renew her contract. She was ready to move on, and she wasn't able to play the role anymore because she was tired of being a background actress.
10. She's A Big Sister
Not only is she a big sister, she's a big sister to several younger siblings. She's the oldest of five kids. They lived in Phoenix most of her childhood, and they moved to New Jersey when she was only 15. Her siblings probably had it easier being younger at the time.