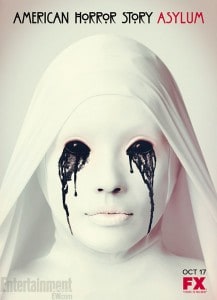 The American Horror Story: Asylum promotional train reached its peak Wednesday when EW.com got two exclusive trailers from the show that features the cast in all their haunted glory. The freakish trailers, which plays "Que Sera, Sera " mashed up with samples of the American Horror Story theme in the background, dropped hints to what we can expect from this upcoming season with the patients and those who are supposed to –ahem– care for them. Those same trailers became available to other media outlets and we here at TVOvermind will analyze them both to the point that our
The first teaser features most of the cast, or most of the patient part of the cast, lying in their respective hospital beds as James Cromwell's Dr. Arden, Joseph Fiennes's Monsignor Timothy O'Hara, and Jessica Lange's Sister Jude lords over them menacingly. The interesting thing about the patients is that Zachary Quinto's and Lily Rabe's character's (Dr. Thredson and Sister Eunice, respectively) are included in that particular roster. Could they be oblivious to the machinations of Sister Jude, Dr. Arden, and Monsignor O'Hara? The second teaser, as well as the extensive character bios found in this week's Entertainment Weekly, could help with Sister Eunice's dilemma on the show, but Dr. Thredson could be a different beast to tackle all together.
Here's the first teaser featuring the cast:
Now on to the cryptic, but sensual unnerving American Horror Story: Asylum second teaser, called "Inside The Asylum," which takes a cue from last year's 'Family Portrait' promo (a personal favorite of ours here at TVO). Like "Family Portrait," this promo drops enough clues to fill plenty of buckets to feed whatever beast(s) that resides in Briarcliff Institution's neighboring woods. The clues might not make sense at first glance, but if you really just take a minute and dissect each frame (and apply it with the EW.com/Entertainment Weekly article), then you can easily have yourself a cheat sheet for the new season of American Horror Story. Take a look:
The start of the clip reiterates how Adam Levine's character is from the modern era. The camera he uses before the screens goes to a vintage tinge was clearly from this era, which makes us wonder just how will Levine and Jenna Dewan's characters will fit into the overall story of the Briarcliff Institution if it's set in 1964.
Now as for Sister Eunice (Lily Rabe), it is clear that she's the "nun" from the "Special Delivery" teaser, or rather the nun in that clip represented her. While lying on her bed, Sister Eunice's eyes were closed as the hand reached from under the bed for the bucket of gore, which could mean that she is blindly following orders with no clue about what purpose dumping the stuff will serve. The EW.com article stated that Sister Eunice could be "considered dense," which could mean that she's oblivious to the machinations going on around her, making her spot among the patients plausible since they are all being manipulated in some manner.
The clues concerning Lana (Sarah Paulson), Kit (Evan Peters) Shelly (Chloe Sevigny), and Dr. Thresdson (Zacahry Quinto) are still kind of vague, but only because they tell us at face value what EW.com has already revealed to the public. As for Dr. Arden and Monsignor O'Hara, we can tell that something is so not right with either representative of science and faith, respectively. What that is? We are not sure yet.
And Jessica Lange as Sister Jude? Do we have to explain how much ass she will kick and own this year? But seriously, Sister Jude was strategically placed in between the middle of both men who will be fighting for her affections and who also represent both science and faith. So will any of that explain why Sister Jude is considered "sadistic?"
As of now, that's our quick analysis of American Horror Story: Asylum. We are looking forward to hearing your theories about the show, so leave us a comment below or hit us up in the Forums!
Are you ready to be committed to American Horror Story: Asylum? We sure as hell are…
American Horror Story: Asylum will be open for business October 17th @10/9c on FX.
Source: EW