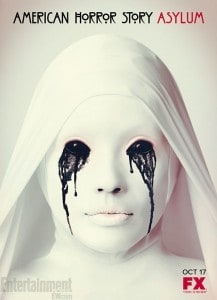 Today, American Horror Story: Asylum and FX slapped us with a mother load of information, because we not only got a new teaser trailer, we also received four promotional posters and a premiere date as well! So mark your calendars for October 17th to get committed to the asylum!
The teaser trailer, called "White Rave," is a different take on Friday's teaser, which featured a rave of patients passing a bucket of gore above their heads. This time, however, the crowd is passing around the creepy White Nun from the "Blue Coat" and "Ascend" teasers. It's safe to say that this latest version of the rave was much more effective than Friday's edition. Plus, could the White Nun be a partner of Bloody Face, the new version of last year's Rubber Man? Here's the teaser:
Also, Entertainment Weekly were blessed with four promotional posters, three of which are stills/variations of the "Ascend," "Special Delivery," and "Hydrobath" teasers. So if you have already dissected those three clips, then the photos could either help add on to your theories or just be eye candy for the disturbed set. The fourth one is an original poster that looks to rival last year's Rubber Man reaching for a pregnant Vivian promotional poster. The infamous White Nun's eyes are melting solid black liquid, which could either mean a demonic possession or that the nun is simply unclean in various aspects of the word. Here are the photos to drool over…
Bottom line? The spooks of American Horror Story: Asylum are right around the corner and we just simply cannot wait for October 17th to get here.
American Horror Story: Asylum premieres on October 17th on FX.
Source: Entertainment Weekly