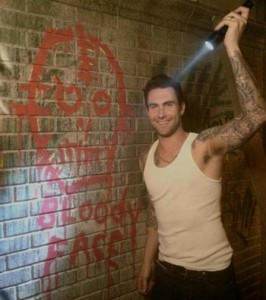 American Horror Story creator Ryan Murphy has revealed the title of the "next chapter" in the American Horror Story saga. The second season will be referred to as American Horror Story: Asylum, referring to the setting the 13 episodes will take place in. More specifically, the show will be housed in an east coast mental hospital in 1964 ran by the Catholic Church. Joseph Fiennes will be playing the man in control of the asylum, with Jessica Lange as a nun and James Cromwell as a doctor that work with patients.
It's an unusual but not unexpected approach for the show to take; there may be slight continuity in the presence of a handful of actors from the first season, but season two is an entirely different animal. It takes place on the other side of the country in a different time period, populated by a slew of new actors and tackling completely different issues than season one. By naming the show something else, its status as a miniseries is solidified and it plays into the horror tropes that were a hallmark of the first season.
In addition to Lange, Fiennes, and Cromwell, the second season of American Horror Story will feature the return of Evan Peters, Sarah Paulson, Lily Rabe, and Zachary Quinto in completely different roles and the Horror debut of Chris Zylka, Lizzie Brocheré, Chloe Sevigny, Britne Oldford, Jenna Dewan-Tatum, Mark Consuelos, Clea DuVall, and Franka Potente.
The second season of American Horror Story will premiere this October on FX. The show recently earned 17 Emmy nominations for its much talked about debut season, including a nomination for Outstanding Miniseries/Made for TV Movie and acting nods for Connie Britton, Denis O'Hare, Frances Conroy, and Jessica Lange.
Will you be watching the next season of American Horror Story? Do you like the idea of titling each season of the show? What other horror-friendly locations would you like the show to go to next?