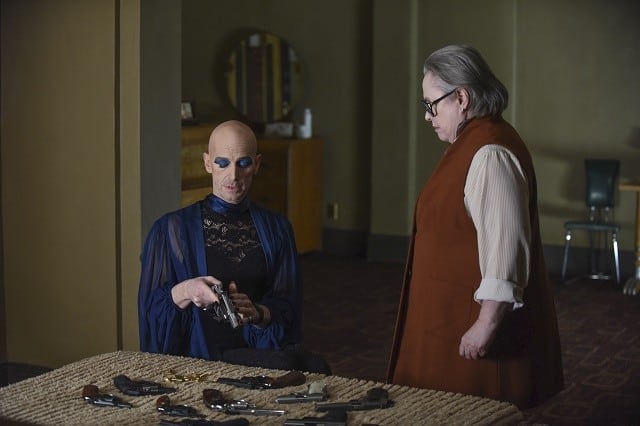 American Horror Story: Hotel has been the strongest season of the anthology series so far, but this week's episode has the challenge of trying to rebound from the weakest episode of the season that we saw last time. Let's see how things progressed in "Battle Royale."
The episode opens with Iris and Liz Taylor loading guns in preparation to take out the Countess (as we saw at the end of the previous episode). Just as before, the two burst into the room with guns blazing and fire on the Countess. Donovan gets caught in the crossfire, much to his and his mother's chagrin, and his final request is that he be moved outside the hotel to die so that his spirit isn't trapped with Elizabeth's other lovers. His death is a powerful moment that is downplayed a bit from taking place at the very beginning of the episode, and it's also undermined a bit by the survival of the Countess. It doesn't make much sense to me that one of the two could be saved and not the other, but it works for the story, so I'll let that pass.
Speaking of Elizabeth's survival, she manages to sneak out of the room before Iris and Liz can find her (and since they're also distracted by Donovan), and Sally helps patch her up far away from the others. The Countess is obviously in poor condition in the aftermath, but her proximity to Sally during this time allows us a 1993 flashback to more of Sally's life. It also, finally, gives us another look at the monstrous beast we saw her with all the way back in the pilot. Sarah Paulson built Sally up to be her most villainous role in the series during the promotional tour over the summer, but the character herself has been pretty hit-or-miss throughout the season. She's definitely had moments in which the evil shined through, but the writers have tended to try and make the audience feel more sorry for her than anything else. This strategy has worked at times, but it's been pretty unsatisfying more often than not. In a television landscape that tends to do a great job at creating compassion for villains, the shining horror show on television hasn't succeeded with what could have been one of the more promising characters of the season.
Along the same line of characters being unsatisfying, man, I am so disappointed with what's been happening with John and Alex in the past couple of episodes. Despite the predictability, I was a big fan of John's story throughout most of the season, but putting him back together with Alex has absolutely ruined him for me. There are still a couple of episodes to bring him back around, but it's looking more unlikely than ever at this point.
I've talked a lot about things that have disappointed me, so let's move on to positives. Queenie is back! Gabourey Sidibe reprises her American Horror Story: Coven role in "Battle Royale" in a way that completely works in the contexts of both stories. I won't spoil what happens because it's just too much fun, but Queenie's appearance here is a surprisingly natural progression for the character that flows perfectly into Ramona's storyline this year (pun intended). Hotel has done a phenomenal job at starting to heavily tie the stories together after the small tease we got about the connectivity in Freak Show, and I'm so excited to see what the writers do with this progression next season.
I could mention how great Evan Peters is in "Battle Royale," but I don't want to sound like a broken record. Instead, I'll briefly talk about Angela Bassett. I haven't shied away from expressing how disappointed I've been at Ramona's relatively tiny role in Hotel after being billed as a series regular, but "Battle Royale" (and her flashback episode a few weeks ago) has all but erased that disappointment. Bassett really shines as Ramona Royale, and my only regret with her character is how little we've gotten of her.
"Battle Royale" was a definite improvement over the previous episode, but it still didn't live up to how great the majority of the season has been. The upward progression gives me hope, though, and there was enough good this week to keep me excited for the final two installments of Hotel. Let's see what Ryan Murphy and Co. throw at us in the end.
What did you think about "Battle Royale"? Are you excited about the final two episodes of American Horror Story: Hotel? Let us know your thoughts in the comments down below!
[Photo credit: Ray Mickshaw/FX]
American Horror Story: Hotel Episode 11 Review:
Summary
American Horror Story: Hotel rebounds slightly from its weakest episode with an installment that includes a returning fan-favorite from seasons past.