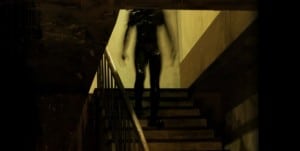 Stairs have played a fairly meaningful role in the American Horror Story universe, however whacked out it may be. Last season, for instance, they were the gateway to the evil in the Harmon household. Head up into the attic and you'll find Constance's deformed child, all but abandoned by the "southern belle", while the stairs that led to the basement brought you to the home's hot spot of activity. Murders were committed there, ghosts gathered there, and once the lights went out, your chances for safety and security dropped exponentially per second.
The second season of American Horror Story has brought the stair motif out of hiding for its latest teaser, titled "Spiral". Taking place on a spiral staircase, the teaser shows a series of bodies slumped over on each level of the stairs, all presumably dead. The black-clad nun makes her way up unimpeded until the body at the top of the stairs comes back to life and gives her a look brimming with hatred and danger.
That defiant final moment makes me think that we might be in for an uprising by the patients against the staff of the facility. It's been made very clear from the teasers we've seen thus far that they aren't providing the greatest care in the world for the mental disturbances the patients are dealing with, so it likely wouldn't take much for something like that to happen. All the frustration, all the pain that the patients are dealing with has to manifest itself somewhere. If the staff doesn't correct their behavior in the near future, the inmates might be running the asylum come finale time.
American Horror Story: Asylum premieres Wednesday, October 17th at 10:00 on FX. You can check out the most recent teaser here, as well as promo pictures for the season here and the TVOvermind American Horror Story discussion forum here.
Do you think that "Spiral" will have significant meaning for the season? What are your interpretations from the brief teaser? Will there be a final uprising against the staff of the facility?