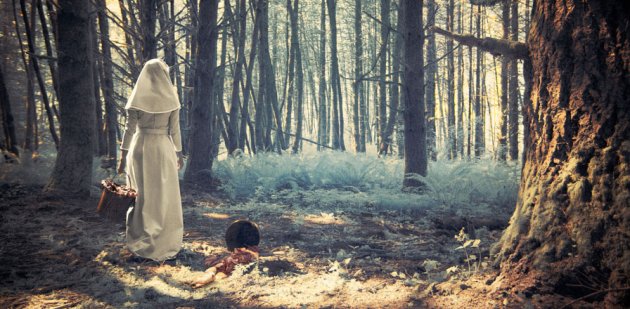 While the east coast is about to experience the hell that is Hurricane Sandy, aka "Hurricane Frankenstorm," a similar storm is headed towards Briarclif on this week's American Horror Story: Asylum, unleashing its own brand of hellish horrors.
After last week's episode, we know now that Kit is not Bloody Face, Dr. Oliver Thredson might be the savior of some of the patients, Lana is stupid and Mary Eunice isn't exactly herself anymore. The teaser for the upcoming Halloween episode titled "Nor'easter" touches on those particular plot threads and more as the raging storm puts Briarcliff in the dark, pitting the staff and patients of the Asylum against their fears. Again. As Mary Eunice puts it in the trailer, "How fun…" Here's the trailer for your consumption:
After replaying the :30 sec spooktacular clip a few times, some interesting theories formulated on where the Briarcliff saga will take us next week. American Horror Story: Asylum isn't holding back on revealing some of the fans' question's rather quickly, which is plausible since they have only eleven episodes left to tell their story. So see if you discovered the same clues/reveals that what we spotted in the cryptic, yet tantalizing teaser:
– Does Dr. Thredson find Wendy's dead body? 
It looks like the pragmatic psychiatrist either finds Wendy's body or signs of her death since the teaser shows him investigating her and Lana's house. The next question is whether Dr. Thredson's conversation with Lana over Kit's innocence will take place before or after his possible discovery. Then again, we really hope Lana will learn about Wendy's murder either way, because her stubborn attitude against Kit is the only obstacle holding her back from escaping Briarcliff.
– Will Bloody Face finally make mince meat out of Teresa?
The teaser showed more of Bloody Face terrorizing Teresa, but one specific scene revealed the Briarcliff legend finally getting into the room where we last saw the surviving member of The Lovers cowering in fear. If Teresa is killed off, what could Bloody Face's present day adventures have to do with Briarcliff's past?
– Was that an angel behind Sister Jude at the end of the teaser?
We don't know about you, but the figure who nearly scared Sister Jude out of her habit surely looked as if it was one of God's messengers from Heaven. We already know that Frances Conroy will appear later in the season as one of the heavenly creatures, so maybe this is a precursor to what's to come?
– Could Bloody Face be one of the creatures in the forest?
This particular theory might be a stretch, but it could explain how Bloody Face is in two different time periods, looking equally robust and psychotic in both eras as if nothing has happened to him. Maybe Bloody Face is an advanced creature of Dr. Arden's who he has had a hard time controlling? Or maybe there is a slew of Bloody Faces running throughout the forest, feeding on the remains Mary Eunice delivers to them. Or maybe we're off our rockers and shouldn't think too deeply into the origins of fictional maniacs.
Either way, we are "committed" to discovering just what the hell is going down in Briarcliff and its denizens, and Wednesday really needs to get here like yesterday.
What are your theories when it comes to American Horror Story: Asylum?
American Horror Story: Asylum airs Wednesdays @10/9c on FX.
Photo Credit: FX