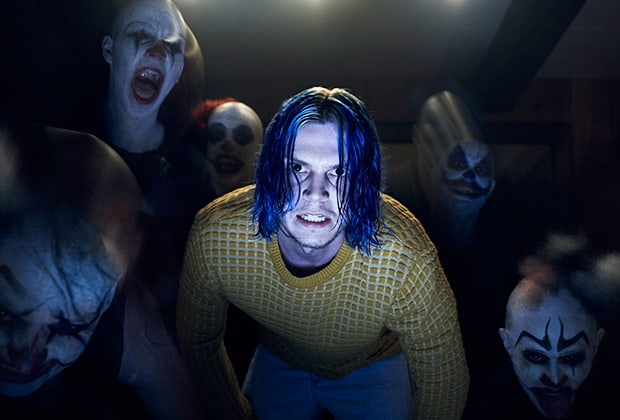 American Horror Story: Cult has premiered. For those who have not been paying attention to the marketing for the current season, it is based on the reactions to the 2016 U.S. presidential election but is supposed to remain watchable to both liberals and conservatives. Furthermore, it features the return of Twisty the Clown to the series, though the exact nature of his role remains unclear at this point in time.
Who Are the Characters Introduced?
Regardless, there are a number of important characters who have been introduced in the first episode of American Horror Story: Cult. First, there are Ally and Ivy Mayfair-Richards, who are horrified to see Donald Trump elected as the President of the United States. In contrast, Kai Anderson responds to the news with much more enthusiasm, so much so that he humps the TV before covering his face with Cheetos. Curiously, his sister Winter Anderson is less pleased but when the two meet up, they lock pinkies, which suggests some sort of bargain between them that remains to be revealed in full. Finally, there is Dr. Rudy Vincent who serves as Ally's therapist as well as Twisty the Clown who has showed up as a character in a comic book that was being read by Ally and Ivy's son Ozzy.
What Happened?
The main characters' responses to the 2016 U.S. presidential election are much as what one would expect, though it can be said that Ally and Kai have much, much stronger responses than their counterparts. For example, Ally responds in a horrified manner to the comic book that Ozzy is reading because it turns out that she has a phobia of clowns, which coexists with a number of other phobias that have strengthened so much since the election that her life is falling apart. Meanwhile, Kai opposes extending security at a Jewish community center, spills coffee over Ally and Ivy when he encounters them on the streets, and then pisses into a condom so that he can throw it at construction workers while shouting racial slurs to get them to attack him. However, it is clear that Kai has something more planned out, as shown by him prepping Winter to become Ally and Ivy's new housekeeper, which is curious to say the least.
With that said, what is more curious still is the exact nature of the clowns that show up in the series. At this point in time, it is unclear whether the clowns are real or not for the simple reason that Ally seems to be hallucinating them during at least some of the sightings. For example, she has a scary moment when she sees clowns copulating in the store aisles before attacking her, but she is told by Ivy that the police found no evidence of such occurrences.
Likewise, Ally hallucinates a series of disturbing images at a restaurant where she is supposed to be having a good time with Ivy, which ruins the moment. With that said, there is also reason to suspect that the clowns might be something more than a hallucination, seeing as how Ozzy claims that clowns murdered Ally and Ivy's neighbors even though Winter claims that he has a hyper-active imagination while the police treat the incident as a murder-suicide.
Summed up, it seems probable that much of American Horror Story: Cult will be focused on the exact nature of the clowns. Meanwhile, viewers can expect more scary scenes with them, as shown by the last scene of the premiere in which Ally wakes up in the middle of the night with a clown rather than her wife in bed with her, which makes for something of a shock.