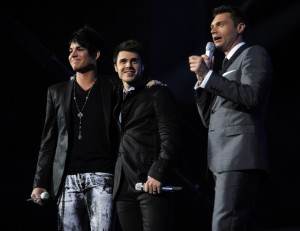 Tonight was the final night of competition on American Idol, and you could feel the gladiatorial haze that the press and fans had built up around this '˜final battle'lift as soon as opponents Kris Allen and Adam Lambert first took to the American Idol stage. These are two American Idol finalists who truly respect each other, and their friendship was obvious tonight. None-the-less, one of them will be defeated tomorrow tonight, and the winner hinges on tonight's clash of the harmony — and the sturdiness of Ma Bell's trunk lines.
Sticking to the format for American Idol finales, Kris and Adam were to sing one choice song, one song picked for them by American Idol creator Simon Fuller himself, and finally each would perform a song written specifically for the competition. After a coin toss it is decided that Adam will kick things off.
Adam started with his own take — partially inspired by Gary Jules — on Tears for Fears 'Mad World,'plastering the performance with his signature theatrics and ear splitting falsetto. By now everybody knows what to expect from Lambert, and he delivers. I can't help but think how perfect he would be in a remake of Rocky Horror Picture Show, any part.
Kris goes with 'Aint No Sunshine.'I have a problem with this. Everybody recognizes Adam's song as the one from the Gears of War commercial, or Donny Darko, however Kris's musicianship is overshadowed by the obscurity of his song choice. Of course it is a classic, amongst folks who have trouble staying up past 8 o'clock. Kris brings it, of course, but Adam wins simply on the basis that most under-thirty'ites will actually remember the song he sang.
The Simon Fuller guided portion of the show played to the American Idol hopefuls'strengths, but the selections were clearly stilted in Adam's favor in terms of entertainment potential. Adam performed 'A Change is Gonna Come'by Sam Cooke, and rode the upbeat segments hard while Kris slithered through Marvin Gaye's 'What's Going On.'Adam easily seized on the shifting tones of Cooke's masterpiece while Kris struggled, in my opinion, to make Marvin Gaye's classic into a creative showpiece.
The final round, singing the song that Kara co-wrote 'No Boundaries,'was even more of a boon for Adam. Lambert's histrionics have become part and parcel of the American Idol experience this season and the tall-cool-one peppered the weak and predictable ballad with his signature goods. Dare I say he made an otherwise unlikable song likable? Kris, on the other hand, failed in his last best chance of the evening — showing significant strain at some points and failing to pull any stunners out on the tune. It was the forgettable vs. the unforgettable.
Say what you will about Lambert's over-the-top approach to this competition. Will it make it on radio? Probably not. Is he more Broadway than The Whiskey? Most definitely. All of that aside, Adam knows how to create presence in this competition. Set aside the allegations of producer favoritism, with or without it Lambert has done what he needs to do to win the contest regardless of how true-blue Kris's musicianship is. If Adam Lambert collects his predictable win tomorrow, this season may yet define American Idol as something far removed from a singing competition — but still enormously interesting to watch.