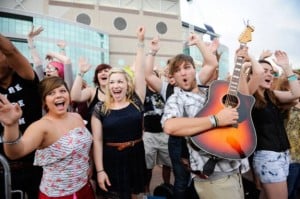 Last week it seemed that the tides had turned a bit and that American Idol just might be coming around this season. North Carolina and Louisiana both offered up some decent talent and the judges seemed to be starting to come together in search of an actual super star instead of just some extra  camera time (the verdict is still out on Nicki Minaj in this department). Tonight, the American Idol auditions head to not one, but two cities, in search of the next big thing.
The first stop of the night is San Antonio, Texas, which if past seasons are any indicator, usually means a lot of really impressive talent (season 1 winner Kelly Clarkson, for example) and a whole lot of crazies in cowboy hats. Â After the Lone star State, the American Idol auditions head on over to sunny Long Beach, California to give the west coasters a shot at the big time.
Tonight's visits to San Antonio and Long Beach mark the second to last auditions for this season of American Idol. After tomorrow night, the auditions will finally be complete and the lucky golden ticket holders will all head to L.A. to face the infamously stressful (but entertaining!) Hollywood week, in which we will get to see who will be able to stand up to the pressure and drama…and that's just the judges. The contestants will probably be stressed out too.
American Idol airs Wednesdays and Thursdays at 8/7c on Fox.