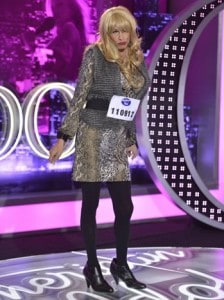 Last night American Idol wrapped up its auditions with a final stop in Oklahoma City and, despite a cheesy intro with a group rendition of "Oklahoma," the Sooner State proved that it wasn't messing around, with 45 auditioners earning golden tickets to Hollywood.
Starting off the Oklahoma auditions was Karl Skiller who, based on his introduction, had potential to be a bit of a disaster. After telling the judges that he wanted to be "uncomparable" (red flag!) and that he couldn't just stand still while he sang (another red flag!), he launched into a very animated rendition of James Brown's "I Feel Good" and surprisingly, he wasn't bad. The judges asked him to try a song with the guitar that he had brought, which he also did quite well. After Karl's audition, it was clear that American Idol had caught on to their predictability and we were no longer going to be able to assume that a quirky introduction equals a train wreck audition.
Another contestant that left the judges a bit baffled was Halie Hilburn, who brought along her ventriloquist dummy, Oscar, to her audition. A cute girl who seemed reasonably normal (aside from the puppet, of course), it was hard to decide if she was just trying to stand out or if she actually had a possible screw loose. Either way, she wowed the judges with a duet (with Oscar) of "I Want to be a Cowboy's Sweetheart" and an impressive solo of Gavin DeGraw's "More Than Anyone." After breaking the news to Oscar that he would not be moving on to Hollywood (despite his impressive yodeling skills), the judges rewarded Halie's talent and charm with a golden ticket.
Another memorable contestant from the Oklahoma City auditions was Zoanette Johnson, whose enormous personality and off the wall rendition of the "Star Spangled Banner" earned her a golden ticket as well, although I'm not sure it was based on her talent as much as the sassy diva attitude she offered up to the judges.
As with any good round of American Idol auditions, there must be a couple of "pull at the heart strings" stories and last night's auditions were no exception. First up in this department was Nate Tao, who told the judges that he was the only singer in his family, in large part because both of his parents were deaf. With a spot on delivery of Stevie Wonder's "For Once in my Life," he flew through to the next round. Also bringing tears to our eyes last night was 16 year old Bieber-esque Kayden Stephenson, who had been given a life expectancy of only 35 years old after being diagnosed with cystic fibrosis. With an amazing outlook on life and a voice that was, according to Nicki Minaj, reminiscent of a young Michael Jackson, he not only impressed the judges but inspired them as well, earning him an easy golden ticket to Hollywood.
In what seemed like the perfect way to round out the oddities of the night, a familiar face made a visit as the final auditioner. Dressed in drag with a fluffy blonde wig and a dress to show off his "voluptuous" figure, Steven Tyler attempted to audition, but was shot down and denied a golden ticket. Oh, how we've missed you, Steven.
Next week, American Idol kicks off Hollywood week, which, if past precedence is anything to consider, is certain to bring tears, drama, and at least one good fainting episode.
American Idol airs Wednesdays and Thursdays at 8/7c on Fox.