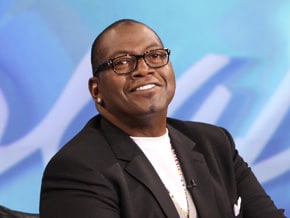 After weeks of speculation, it looks like The Dawg, a.k.a. Randy Jackson, is officially leaving the judges table for the upcoming season of American Idol, according to TMZ.  Rumors have been rampant regarding the game of musical judges that seems to be going on over at American Idol, but most of them have been focused on who would be replacing last season's judges Jennifer Lopez and Steven Tyler. Now it seems that the only original judge left from season one will now be departing as well.
It's not a complete farewell for Mr. Jackson, however, as he will be acting as a mentor for the American Idol contestants, ala Jimmy Iovine. So for those of you mourning this loss, not to worry, I'm sure we'll still get to hear classic Randy gems like "he's in it to win it" and "she's gotta have it," it just won't be from the judges table.
As for who will be actually judging this season of American Idol, the only signed judge so far is Mariah Carey. According to Idol sources, Nicki Minaj is almost a done deal, but the word is, Ms. Carey is none too happy about being joined by a younger and more currently relevant female judge. Other names that have been thrown around include P. Diddy and Kanye West, but it looks like the buzz on these two has fizzled, leaving much speculation about who will fill in the gaps.
One thing we do know for certain is that American Idol will be returning to its four judge format, interestingly enough, given that it didn't seem to work too well the first time around. If Nicki Minaj is indeed in, we can probably assume the last two judges spots will go to men. Rumor has it that American Idol execs would love to see a country music influence on the panel, which makes sense since it seems to have worked well over on "The Voice."
So who will be sitting at the judges table come January when the twelfth season of American Idol begins? Your guess is as good as mine…and we'd love to hear your predictions. Share your thoughts and join the conversation here.