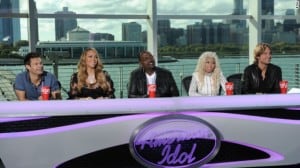 After swirling rumors and numerous reports of tension between newby American Idol judges Mariah Carey and Nicki Minaj, American Idol producers have finally decided to speak out. It's not clear as to whether they finally got tired of the accusations that the drama was all staged or if it was Carey's interview to Barbara Walters in which she claimed she had to hire extra security for her and her babies for fear that Minaj would shoot her, but either way, AI producers have ponied up and made a statement released today:
This is one of the best, most passionate, dynamic and invested judging panels we've ever had. We love and support all of the judges and the fantastic work they are doing, and we can't imagine a better group to find the next American Idol. Despite all the accusations and media speculation — much of which is inaccurate — production is going extremely well today and the judges are focused on finding the best talent here in Baton Rouge.
Well, that clears up just about nothing.
What do you think about the Mariah vs. Nicki feud? Staged drama for ratings or a case of too many divas on one panel? Share your thoughts and opinions on the American Idol forum.
American Idol is holding auditions now and is set to premiere in January.