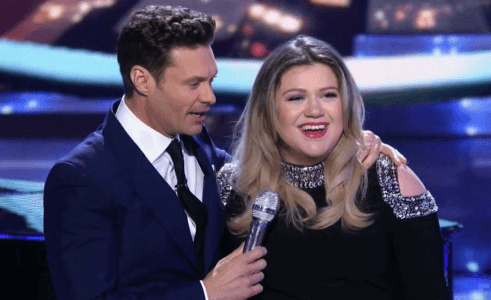 Our first live episode of the Farewell Season of American Idol begins with a video/picture timeline of the Idol journey, beginning clear back in the summer of 2002. It's a trip down memory lane, and now is when I think I'll start getting sentimental about the end of this era. The montage is complete with not only clips of vital Idol moments, but important life events, as well.
As the judges are introduced, we get to see a picture of Harry Connick, Jr, who was in attendance at the first American Idol finale nearly 14 years ago. Ryan Seacrest points out that he has a "better seat than Donna Martin," as Tori Spelling is seen sitting directly behind him in the photo. For that comment alone, I rate this episode five stars.
No time is wasted as we jump right into our first "dim the lights" and "in no particular order" moment, as the remaining six to complete the top ten are revealed. Joining Dalton, Olivia, Trent and La'Porsha is Tristan, Sonika, Gianna, MacKenzie, Avalon and Lee. (That was the sound of the hammer hitting my TV again, as neither Thomas Stringfellow or Jenn Blosil made the cut. I'm having Adam Lasher flashbacks, and a moment of Idol rage.)
Alas, the show must go on.
It's by the grace of Kelly Clarkson that I am able to pull myself together and continue on. With KC (we're tight like that) on hand to guest judge and perform, these Idol wannabes are about to get schooled.
Each contestant will be sharing with us their favorite American Idol memory, as we get to see a sneak-peek into their private lives.
OLIVIA ROX, 17- Olivia's earliest Idol memory is of Season 5's Katharine McPhee performing "Somewhere Over the Rainbow." I like how she Rox the Baby Spice hair knots in her interview package, and she delivers Katy Perry's "Unconditionally" for her first live performance. Jennifer likes this version "so much better" than the original (oh no, bad blood?) and Harry thinks Olivia "did everything you had to do." Kelly thinks the beginning of the number was "tasteful."
Throughout the episode we are treated to Kelly highlights from the first season, and it's fun to be reminded how easy it was to fall in love with her at each performance. From "Natural Woman" to "Don't Play That Song," it was always clear that Kelly was going to be crowned the inaugural Idol.
GIANNA ISABELLA, 15- Gianna's Idol highlight is her school-girl crush on Scotty McCreery back in the day. (And we get *another* "baby lock them doors and turn the lights down low" Scotty flashback.) Gianna tries her best to channel her inner Beyonce on "Listen," and Jennifer reminds her we are at the "serious" part of the competition, and thinks the performance started off " very shaky." Kelly thinks it's very "bold" to tackle Beyonce, and that the number was "really good for fifteen." Harry thinks the performance felt "very arranged." She's still not my favorite, but I think this was better than last night's.
LEE JEAN, 16- Lee's Idol memory involves season 10 contestant Chris Medina, and the inspiration he brought with his audition. Lee delivers Bon Iver's "Skinny Love" and Kelly likes that he has found his "niche" so early on. J.Lo would like him to find songs that are "more impactful" to him. This is probably my favorite performance of his, but he's still not on the top of my list.
AVALON YOUNG, 21- I love that Avalon's best memory from American Idol is season one runner-up Justin Guarini, and his performance of "Get Here." I wasn't sure if we would even hear the words "Justin Guarini" mentioned during this Farewell Season. Avalon chooses "Stitches" by Shawn Mendes, and, much like last night, I feel that there is something off about this performance. I have loved her since her first audition, but I think she's having trouble finding her footing lately. Harry thinks she "exudes a cool vibe" but feels this number "fell flat." Jennifer feels that "halfway through you found a way to make it happen." Kelly loves the fact that she can "make me love anything you sing."
DALTON RAPATTONI, 20- Dalton recalls a "bad night in the Rapattoni house" as he remembers the night Chris Daughtry was eliminated in season five. He also has a special connection to season seven winner David Cook, for the simple way David would change each song to make it his own, and not sound like a karaoke cover. Dalton delivers "Hey There, Delilah" and Keith "loves what you do to songs" and calls it an "electric barnyard," whatever that means. Jennifer thinks that it was performed with "a lot of heart," while Harry thinks he's "batting a thousand" so far. (I think that might be a baseball term that means he's doing really well.)
TRISTAN McINTOSH, 15- Maybe this is where my recent disconnect with Tristan comes from: her most memorable Idol is Jessica Sanchez from season 11, and that must be the season I ditched, because I have no idea who that girl even is. I had high hopes for Tristan in the beginning, but I'm just not feeling her lately. Her take on Dan + Shay's "Nothin Like You" has Jennifer realizing what a young top 10 it is this year. Kelly would like to see Tristan sing a song she has actually felt, and Harry would like to see her choose country songs with more "crossover appeal." (I would just like to see her resemble the same person two weeks in a row.)
MacKENZIE BOURG, 23- The living Tom Little. (I don't trust that people will take the time to google that name, so allow me to provide you with a picture after his review.) MacKenzie's favorite Idol moment is of season three's William Hung. The off-key audition of Ricky Martin's "She Bangs" had MacKenzie realizing that American Idol is a platform that "can give memorable people moments." His take on Ed Sheeran's "I See Fire" has the baby in Kelly's tummy "doing flips," and Kelly refers to him as "a vessel for great songs." And now I give you cartoon MacKenzie Bourg, aka, Tom Little…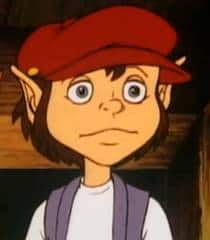 AND NOW IT'S TIME TO BRING THE HOUSE DOWN.
LA'PORSHA RENAE, 22- Kelly Clarkson's crowning moment of 2002 is the Idol memory that stands out for La'Porsha, as she recalls that being the moment that made her believe she could do it. Her take on Rihanna's "Diamonds" is nothing short of spectacular and results in thunderous applause from the audience, and a standing ovation from all four judges. Kelly's critique steals the show, and Keith declares that she just delivered "pure humanity."
SONIKA VAID, 20- Sonika's most memorable Idol moment is Kelly's performance of "I Surrender" from season one, and I have to question if these kids are being honest. Sonika was all of six years old that year?? She chooses "Bring Me to Life" by Evanescence, and how fitting it is, because that's just what this song does… brings her to life. I think it's easily her best performance to date, and Kelly praises her for following La'Porsha's powerhouse number with something so grand. Jennifer thinks she is "dangerous" in this competition, and Harry likes the "different kind of angst and passion," and thinks it's "very, very smart."
TRENT HARMON, 25- Trent's Idol memory is David Archuletta's "Imagine" from season seven. He brings us Sam Smith's "Like I Can" and I love the vocal, it's just his live performing I have trouble watching. Jennifer believes this season is "one of the best competitions," as she feels they are all bringing their A game. Kelly compliments Trent's "natural gift" and Harry thinks it's "tremendous."
KELLY CLARKSON, THE AMERICAN IDOL- Kelly returns to the stage to show these kids how it's done. She gives us the title track to her most recent album, "Piece by Piece." It's a phenomenal performance (on all levels) that leaves Keith in a pool of tears and the audience (and judges) on their feet. We are reminded, yet again, why Kelly will forever be our Idol. (La'Porsha who?)
Next week, we get a dramatic double elimination. And as long as Kelly returns on finale night to perform, I don't even care who gets the crown… because the American Idol title will always be hers.
https://www.youtube.com/watch?v=9FHYBQxURQo
American Idol Season 15 Episode 16 Review: "Top 10 Revealed and Perform"
Summary
The top 10 finalists are revealed and perform in the first live show of the season.