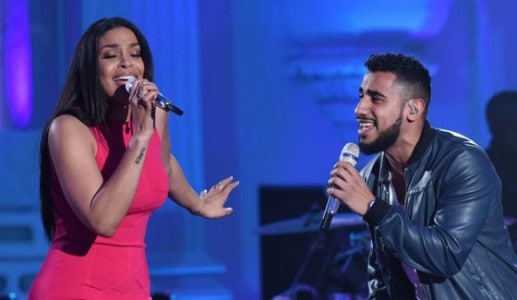 It's the final night the American Idol judges will have any say in who stays and who goes, as the control is handed over to us and our votes beginning next week. Â It's a round of "future Idols meet Idol stars" for the last half of the elite top 24, and after a "twilight zone" night of solo performances, we can only hope the seasoned vets bring out the best in the newbies.
AMELIA EISENHAUER AND SEASON 5 STANDOUT KELLIE PICKLER: If Kellie Pickler ever gets her own reality show, I vow to watch every second. (We're gonna not mention that she actually already has/had one on CMT called "I Love Kellie Pickler," because even though I do, I somehow managed to miss seeing it?) The self-proclaimed "antique Idol" won America's heart 10 years ago, and it's refreshing to still see her small town girl charm. Amelia and Kellie deliver Sara Evans' "Suds in the Bucket" (a song Kellie performed her original season) and it's hard to say what brings Amelia to life on stage more, the fiddle or the Pickler? Harry calls the number "absolutely terrific" and J.Lo feels Kellie was the "perfect mentor" for Amelia.
I can already tell what I'm not going to like about the all-star duets: the forced banter between Idols past and Idols present backstage after each performance, just before we cut to commercial break.
KORY WHEELER AND SEASON 10 3RD PLACE HALEY REINHART: True confessions of an Idol fan… I remember liking Haley on her season, but I wasn't sure I watched her entire show, because I don't remember much about her. I had to conduct some investigative research (aka google) to find out she finished third behind Scotty McCreery and Lauren Alaina. I did in fact watch that entire season, she just didn't stand out that much to me, I suppose. She's trying to make up for lost time with her "all eyes on me in the center of the ring just like a Circus" getup, though. She and Ol' Blue Eyes Wheeler perform "Bennie and the Jets," and I'm not feeling it. Keith thinks the two were "matched up really, really well" and Harry says we're "two for two" so far.
LEE JEAN AND SEASON 5 4th PLACE CHRIS DAUGHTRY: I can't let the fact go that Chris Daughtry just confused the "running man" with the "Roger Rabbit" while trying to break it down. (I just cried into the hair of my Corn Silk Cabbage Patch Kid.) The duo performs Daughtry's hit "Home," which could be considered a pretty bold move, considering I'm pretty sure it was an official Idol exit anthem one year. I feel that Chris carried Lee through the entire number, but Jennifer is left "speechless" and has trouble completing a thought. (Paula Abdul's Coca Cola cup, again???) Harry thinks it's "passionate but very controlled" and Keith loves the "storyteller quality" that was brought to the stage with it. Keith also marvels in the fact that it's an "original song written by someone who came from American Idol."
CJ JOHNSON AND SEASON 7 WINNER DAVID COOK: I guess when you win the title of American Idol, you can get away with chewing gum during performances such as this. David and CJ bring to life "The World I Know" by Collective Soul, which happens to be the last song performed in the competition by David during his season. Harry knows it sounds cliché, but likes that their "voices blend really well together." Jennifer gets a rare boo from the audience, and Harry compares that to "seeing a unicorn" and decides to "boo those boos!"
MANNY TORRES AND SEASON 6 WINNER JORDIN SPARKS: Why do I have a sneaking suspicion that Manny attended one of Tyra Banks' Top Model makeovers, and had that beard glued to his face? Manny is worried about ditching the fun side for an emotional side on a version of Jordin's own "No Air." It's a daring, but completely smart, move. Harry thinks Manny has "charisma that can't be forced." The highlight for me was Jordin Sparks talking about little Ryan Seacrest.
JENN BLOSIL AND SEASON 4 6th PLACE CONSTANTINE MAROULIS: It's my girl Jenn and the smoldering smize of Constantine. When I see that the two will be performing "My Funny Valentine" all I can think is this: When Bad Songs Happen to Good People. I like how Jenn sounds, but the song does nothing for me. Luckily, it's another case of Jimmie Don't Know Best, as the duo receive a standing ovation from Keith. Jennifer thinks it's the "embodiment of the perfect duet" and Keith "frickin/freakin loved it." (It's hard to tell, with the sweet Aussie accent and all.) Harry thinks it was somewhat of a shouting match, but I don't frickin/freakin care.
TRISTAN McINTOSH AND KELLIE PICKLER: During the mentor session, Kellie proclaims that she believes Tristan "has what it takes to go all the way." This seems like a perfect match up on paper, and when I find out the two will be performing Kellie's "Best Days of Your Life," I think it will be a highlight of the night. Next to Kellie, Tristan just appears lost and uncomfortable. I want it to work so badly, and I am so disappointed that it doesn't. Harry says it's "pretty darn good," but I don't think he's even convincing himself. Keith thinks it's "shaky, pitch wise" and Jennifer loves her, but thinks her "youth and inexperience" showed performing next to the former Sonic carhop.
OLIVIA ROX AND DAVID COOK: Having been only 9 years old when Cook beat Archuleta for the Idol crown, it's a pinch-worthy moment for Olivia. The two sing David's "Light On" and Keith lets Olivia know "it's high praise to get high praise" from the original artist. The judges love it so much, they pretty much tell her she's through to the next round without actually telling her.
ADAM LASHER AND HALEY REINHART: The Idol of my dreams meets the Idol of my nearly forgotten memories. Fitting that the two sing "Can't Help Falling in Love," as that was the tune I was singing last season when we first met Adam Lasher. (Smitten I am, I tell you.) I love everything about this, from Adam's little Joker smirk to the sweet looks the two deliver to each other. (I think I would be OK if they started dating. As long as I could be the 3rd wheel.) Jennifer thinks it's "very strong" and Harry thinks it's "lovely." Keith, however, wants to get on my bad side apparently, and "kept waiting" for Adam to "loosen up."
DALTON RAPATTONI AND CHRIS DAUGHTRY: These two search for "Higher Ground" on the Stevie Wonder number, and it's clear Chris has the stronger vocals, but performance wise, I think Dalton held his own next to the Idol legend. (I like how dramatic it sounds to use the word 'legend.') Chris Daughtry is presented with a plaque that boasts 8 million albums and 16 million singles sold; not too shabby for someone who didn't even win the competition, but placed fourth, no less. Harry says that's why he's "honored to be a judge," to be part of a show that "breeds such talent."
TRENT HARMON AND JORDIN SPARKS: The duo bring us "To Love Somebody" by the Bee Gees, and Jordin's biggest advice to Trent is to control hi vibrato. (I wish she would have mentioned something about the over the top facial expressions, too.) The judges eat every bit of the performance up, and practically hand him a key to the top ten. (Let's just pretend such a thing exists.) Jennifer thinks that's the Trent she "knows and loves."
SHELBIE Z AND CONSTANTINE MAROULIS: The good news? Ms. Z has ditched the microphone scarf. The bad news? She's now wearing a necklace that taunts me with her name. (PLEASE, JUST TELL ME YOUR LAST NAME ALREADY, Z GAL!!) For reasons we may never know, Shelbie and Constantine choose "Bohemian Rhapsody" as their duet, but maybe that's just because nothing really matters. The judges aren't having any of it: Jennifer thinks she "lost Shelbie" in the number, while Harry thinks there was no "point of view."
After this last round of 12 have given all they've got in a duet with a former Idol, it's the end of the road for five, as only seven will live to see the next round and sing for America's vote.
The Idols surviving are Lee… Olivia… Jenn (YES!)… Dalton… Manny… Tristan… and Trent.
(Excuse me while I pull this random hammer out of the center of my television screen. And excuse me for what I might write from here on out, as I'm currently blacked out and in denial at what I will now forever refer to as The Great American Idol Robbery of Adam Lasher 2016. Makes me wanna curse, real bad. I am giving this episode a 5 star review for Adam Lasher, and Adam Lasher alone.)
NEXT WEEK! The microphone drops into our court, America… and it's our turn to play judge. (One week too late, b-words.) For the love of Jenn Blosil, I will continue on this alleged farewell journey, but I plan on a lengthy depression. (At least until February 26th, when Fuller House premieres.)
American Idol Season 15 Episode 14:
Summary
Fan favorites Constantine Maroulis, Chris Daughtry, Kellie Pickler, Jordin Sparks, David Cook and Haley Reinhart return to mentor the contestants and perform; the judges determine which contestants will be eliminated.