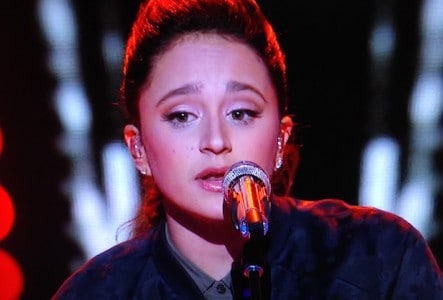 Is it just me, or does it seem like after a seemingly endless round of Hollywood week, the American Idol Farewell Season has kicked into overdrive? It's hard to believe we are only five weeks away from crowning Idol's final winner. This episode begins with what appears to be an extended Ford Fusion commercial, but it's really just filler for the two hour episode. (I thought it was a Ford Focus, because I don't speak cars, but there was a close-up on the name for the inept such as myself.)Â 
We also get a Throwback Thursday to last week's moving performance of "Piece by Piece" by Kelly Clarkson that blew up social media. We get to see tweets from the likes of Trisha Yearwood and P!nk celebrating the best performance to come out of Idol since… well, since Kelly last performed on that stage. (When all is sung and done, and the Idol candles are blown out for good, can I please return here once a week to just write about Kelly Clarkson, the eighth wonder of the world?)
Tonight our top ten will already be cut to eight, as the contestants face double elimination. The first seven are called to safety and perform their numbers, while the bottom three will also be given the chance to perform. The three judges must then decide who to save, and what two to send packing. 
The theme of the night is "Grammy Awards," and we are treated with random Idol Grammy facts throughout the night. (Did you know that over the course of the first 14 seasons, American Idol has spawned 54 Grammy nominations, and 13 wins? Kelly alone scored 12 of those noms, with three wins, while Carrie Underwood claims 13 nominations and seven wins.) Not too shabby for a reality show that featured an allegedly drunk Paula Abdul as a judge for so many seasons.
Dalton Rapattoni- Dalton is the first name called, and he emerges from billows of fog with a fancy cemetery-inspired background. His song of the night is the song that just won't die and let me be, "Radioactive." I feel like it's his weakest performance to date, and there just seems to be something missing… I think it's the spark that he usually brings to the stage. Keith thinks it's "not a great song" for him, and Harry thinks he wasn't "as present as you have always been." (It must be that missing spark!) Jennifer still thinks that he has a clear understanding for the "art of the show."
Lee Jean- Lee delivers "Use Somebody" by Kings of Leon, and I can't help but think this is the number that Dalton should have done. I just don't feel that Lee is strong enough a talent to be our final Idol. J.Lo would like to see him "let go a little bit more," and Harry thinks the performance was "strong."
Demi Lovato (who is easily on my short-list of celebrities I would like to be besties with) is in the Idol house as a guest performer. She takes the stage to perform her single "Confident" (with a little help from the top ten) and then her newest song, "Stone Cold." She belts those notes to the rafters and does her best to have a Kelly Clarkson shining moment, but it falls short of coming close to that. 
Sonika Vaid- Sonika decides to channel her alter ego, the "angry girlfriend," despite the fact that she's never even had a boyfriend. She's clearly still riding a high from the success of last week's performance that surprised us all, and this doesn't quite live up to that. She tackles Kelly's "Since U Been Gone," and while I love that American Idol has given us artists who have then given us great songs like this, I don't think it's best to cover them if it's individuality you're trying to sell. (If that even makes sense??) Keith wanted "more attitude" and thinks Sonika failed to deliver.
MacKenzie Bourg– In a move that furthers my idea that this kid should be in the finals, he brings us Whitney Houston's "I Wanna Dance with Somebody (Who Loves Me)." It's a stroke of genius, and I almost feel like I'm watching Kris Allen 2.0 blossom before my very eyes. Jennifer thinks his "switch-up really worked," and Harry thinks it was an "amazing song choice."
La'Porsha Renae– It's nice to see the set still standing, after La'Porsha blew the roof off the place last week. This week she gives us Beyonce's "Halo," complete with hologram-like angel wings behind her. J.Lo thinks she's "really the one to beat" and calls her a "hard act to follow." Harry believes she's "kind of a master at arcing a song," and I swear I thought I saw her actually levitating off the stage for about .7 seconds. She's so amazing, I can even forgive her for changing the lyric to "Idol I can see your halo."
Trent Harmon– It's almost as if this guy is trying to win me over. We see video clips of him visiting with Idol mentor Scott Borchetta about working on his massive case of the crazy face when he sings. (THANK YOU!) Hi take on "When a Man Loves a Woman" has the judges (especially Jennifer) eating out of the palm of his hand, again. I don't find it that tremendous, but at least I wanted to stage slap him a little less than usual. (And please don't come after me for that comment… stage slaps don't even hurt, and are just meant for dramatic effect.)
Tristan McIntosh– I'm actually surprised that Tristan isn't in the bottom three. I feel that she's kind of gotten lost along the way from her original audition. I don't think she has a firm grasp on her image yet, and I think that's so important when creating who you are and for connecting with fans consistently. She takes on Vince Gill's "Go Rest High on that Mountain" and it's a flashback to that first audition that was so endearing. The song results in a standing ovation from Jennifer and Keith. (And why does Harry basically refuse to stand for any of these contestants, ever? Just for that, I refuse to mention his performance on the stage during this episode.)Â 
That leaves the bottom three to battle out for the last spot in the top eight: Avalon Young, Olivia Rox and Gianna Isabella.
Avalon Young– I almost have trouble focusing on Avalon's performance of The Weeknd's "Earned It" because I am so transfixed on the giant french braid from the future attached to her head. Jenny and Harry both think that she did exactly what she needed to do in this competition at just the right time. 
Olivia Rox- It just now dawns on me why The CW canceled "The Carrie Diaries" a couple years ago; so star AnnaSohia Robb could pursue a music career under the stage name Olivia Rox. We see how AnnaSophia (I'm on to you, teenage Carrie Bradshaw) powered through sickness last week, and she takes the stage with determination. Her version of P!nk's "Trouble" fits her, but pales when put right next to Avalon's performance. Harry says he didn't see "vulnerability, only because the song didn't call for it" and Keith thinks she has an "insane" vocal range. No matter what happens, I would like to see Olivia cast as Jem in the next "Jem and the Holograms" movie; a live-action film completely based on the cartoon, not a sequel to that hot mess of a movie that should never have seen the light of day.
Gianna Isabella– My mom always said if I can't say something nice, I'm not trying hard enough. So, on that note, Gianna's hair looked really pretty straight like that. (She just isn't my favorite, and never should have had a place in the top ten.) Her performance of "If I Ain't Got You" by Alicia Keys left Keith feeling "hungry." (Good thing he has cauliflower tucked under the judges' table, so we learned.)
In a not-so-surprising move, Avalon is saved and sent through to the top eight, as Gianna and AnnaSophia/Carrie/Olivia's time on Idol comes to a close. 
What did you think of the performances?