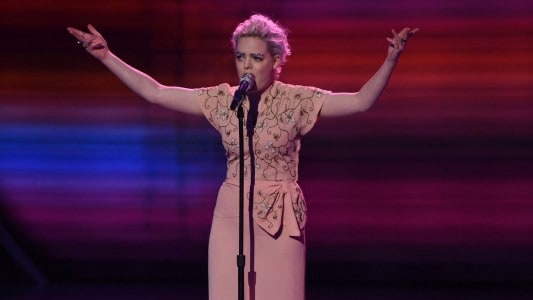 Can we just discuss for a hot minute how American Idol lied to my face? Going into watching this night's episode, I fully expected this: "The judges reveal which eight semi-finalists are in the top 10; six remaining semi-finalists compete for the final two spots." If you read my teaser post earlier in the day, that's what I mentioned. And if you click "info" on this episode, that's exactly what you'll read. Lies, I tell you.
We find out right away that the judges will only be revealing four contestants that will be sailing right into the Top 10, and the remaining 10 of the final fourteen will be singing for America's vote and the last six spots.
We get a welcome return to the Idol stage we all know and love, and it's time for the real games to begin. I'm not one to promote unwise choices, but if I invented drinking games for a living, I'd say take a drink each time Ryan Seacrest touches his left pinky finger with his right hand. (And once you notice how often he does, you won't ever be able to un-notice it, so, sorry about that.)
The judges reveal their four unanimous pics who escape having to sing for the vote:
1. Dalton Rapattoni 2. Olivia Rox 3. Trent Harmon and 4. La'Porsha Renae
(I had chosen these four as judges picks, back when I thought they would be choosing eight. But apparently I was lied to, and apparently I'm bitter about it.) The remaining 10 contestants will each perform their favorite moment for the season, giving America the chance to vote in the remaining singers of the Top 10. (And I really hope America doesn't Trump this up.)
MANNY TORRES- Manny's song choice is Stevie Wonder's "Master Blaster." I can't understand about 78% of the words he's singing, but he brings high energy to the performance as he bounces around the stage. Keith likes that he has a "fighter spirit."
GIANNA ISABELLA- Gianna appears to have gone from age 15 to 20, thanks to her new straight hair and jump suit. I like that she had her youth going for her, and I'm not sure this look will work in her favor. (But maybe she was trying to get a business woman's special for lunch earlier, Romy and Michele style?) She tries to put a spell on America with her Annie Lennox song , and J.Lo believes she belongs in the top ten. (I guess that makes one of us.)
THOMAS STRINGFELLOW- I love this kid. He delivers a repeat performance of One Direction's "Story of My Life," and we find out of this weren't the road he were currently on, he'd be going to school to become an elementray school teacher. (Hello, that's the story of MY life.) Harry offers Thomas some good advice about stearing clear of the continual hiccup noise he's in the habit of hitting after each note. ("The story of my life-uh, I'll take her home-uh.")
TRISTAN McINTOSH- Tristan's dream is to "represent the diversity that country music needs," but I'm afraid she's going to get lost in the competition if she keeps drastically changing her look from week to week. I hope she finds a look that she's 100% comfortable, and runs with it. We get another performance of "What Hurts the Most," and I like how the judges act like this is the first time they are hearing some of these songs from the singers.
AVALON YOUNG- I have been raving about this Young Avalon (yeah, I just did that) all season, but something is lost on me with this performance. Jennifer thinks she's "smooth like butter" and loves the "great performance," but for me, there's just something off about the whole thing.
JENN BLOSIL- How fitting that Jenn revisits "True Colors" for her performance, because I don't think there is a single person in the competition other than Jenn revealing their truest of colors to us. When you show up to American Idol with bedazzled eyebrows, you get my vote. (And it doesn't hurt to have the stand-out performance of the night, either.) When the eyebrows and the song are that fabulous, I can forgive the outfit that makes you look like you're on your way to the dance in "A League of Their Own."
LEE JEAN- I wouldn't exactly call myself a hater of this kid, but I wouldn't label myself as a lover, either. He brings back Ed Sheeran's "Make it Rain" and I'm not moved either way. Keith thinks he's "chill" with his "own style," and I'm over here wondering how Jenn got those jewels to stick on her eyebrows, and if I could pull that look off.
SONIKA VAID- I really enjoy Sonika, but I'm just not sure if she has what it takes to make it to the top ten. She tries to "Surrender" yet again with a powerful Celine-fueled peformance that results in a standing ovation from J.Lo. Jennifer thinks she has "goosies" on her face for the first time, but that could also be a direct result from her too-tight cornrows.
JENEVE ROSE MITCHELL- It's another "Ring of Fire" from the girl from the side of the mountain, and it's clear to me that Shelbie Z may be gone, but her microphone scarf lives on: at the end of Jeneve's seven foot braid. Harry thinks that when Jeneve performs she's "polarizing," but believes this isn't her best performance.
MacKENZIE BOURG- Last but certainly not least (and an easy shoe-in for the Top 10) delivers his original song "Roses" that we heard during his very first audition. (I think. Maybe it was in Hollywood.) I love this guy, too, and I think it will be a crime if he isn't sent through. Keith thinks he "sang great, played great" and marvels at the reaction he was able to get from the audience with an original song.
Unless we've been lied to about tomorrow night's episode, Kelly Clarkson will return to her Mother Ship to serve as guest judge and perform, as the final six spots in the Top 10 are filled. The Top 10 will then perform for our votes, during the first live show of the season.
American Idol Season 15 Episode 15 Review: "Wildcard Night: Judges Pick"
Summary
The judges reveal which eight semi-finalists are in the top 10; six remaining semi-finalists compete for the final two spots. (not true!)