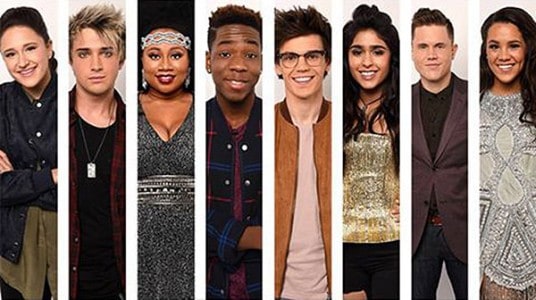 "I AM JIMMIE… boy band guru, Gibbler enthusiast, writer." (…but enough about me.)
This night's American Idol gives us a tiny glimpse into just who each contestant is. With eight left in the competition, it's another double-elimination kind of night, and only six will remain to battle it out for the final Idol title. With all the "farewell season" hoopla, and the season-long farewell celebration, I'm baffled why producers are ending the season more than a month earlier than usual. With only four weeks left before the mother of all reality shows series finales, I'm kind of amazed FOX isn't milking this swan song for all it's worth.
Not only will the remaining eight perform as individuals, they are also partnered up for another round of #IdolDuets, hashtag included.
First up we are treated to the duet of La'Porsha Renae and Trent Harmon. It's clear that these two are seasoned, polished performers, and their duet of "See You Again" is almost like catching a glimpse of finale night. While Trent is far from my personal favorite, it's clear the judges are borderline obsessed with him, and La'Porsha is in a category all her own. Jennifer thinks the song is "magical" and Keith thinks it's a "great way to start the show."
Next up we get Sonika Vaid and Avalon Young. These two seem like the cover couple for an "opposites attract" theme. Avalon's tomboyish appeal, and Sonika's Disney princess look might seem like an unlikely pair, but the girls come together and make it work. Their version of "Rise Up" showcases each of their strengths, and it's clear they each have their own brand of special they bring to the Idol table. It's high praise from all three judges, with Jenny calling their voices "angelic."
MacKenzie Bourg and Dalton Rapattoni make my boy band dreams come true, as they join forces to bring "I Want it That Way" by the Backstreet Boys to life. (And that makes them larger than life, in my book.) Harry questions the lyrics of the song (what?) and Jennifer feels like it's "so much like the original." Keith feels that it's more like a cover of the Boys version, and doesn't feel the performance benefited either of them. (Why the shade??)
Last up for the duets part of the night is Tristan McIntosh and Lee Jean. Their version of Aerosmith's "I Don't Want to Miss a Thing" is more karaoke cover song to me than MacKenzie and Dalton's number. Keith doesn't feel it was a good song fit, and Harry thinks it was a "bad arrangement."
For the solo performances, each contestant will take a page from the American Idol songbook, performing songs that have become staples on the American Idol stage in seasons past. (For the record, I never would have figured that out as the theme, as the majority of the night's songs seem like they were randomly picked from a hat.)
"I AM LA'PORSHA… strength, mother, southern." La'Porsha is the first called to safety and make the top six, and she breaks away from the ballads for her take on "Come Together" by the Beatles. Her intro package comes with a surprise visit from her high school mentor, and it just melts my heart. Jennifer feels that La'Porsha delivers "full diva" each time she takes the stage (and that's a good thing), and Harry thinks her performance is "absolutely incredible." Keith believes that "any song is an incredible song choice" for her, and I agree with him. I will be completely shocked if this strong, southern mom isn't in the finals.
"I AM MacKENZIE… athletic, four eyes, songwriter." MacKenzie brings a sloooooow song to the Idol stage, and I honestly think I fell asleep with my eyes open for about 27 seconds. (Which is weird for me to say, because I really do love him so much.) His version of "You Are So Beautiful" by Joe Cocker had the opposite effect of his Backstreet duet, for me. The judges, being the professionals, disagree, and think this is redemption for his first performance. Harry thinks he "couldn't have picked a more appropriate song" and Keith feels that he made a decades-old song "sound brand new."
Reigning American Idol Nick Fradiani returns to the Idol stage to debut his brand new single, "Get You Home." I think this song could be what happens if a Justin Timberlake song and Adam Levine song gave birth to a baby song. (What? Blame it on the boxed wine…)
"I AM TRENT… Mississippi, farm boy, soul." If this kid wins the last season of American Idol, I might cry a little. I don't understand all the judge-love he gets, and maybe he's just not my cup of tea. (He actually has me thinking I might be allergic to tea.) His version of "Stand by Me" has J.Lo swooning, with Keith and Harry basically doing back flips. (I think I yawned multiple times.)
"I AM TRISTAN… country, bookworm, Mama's girl." I haven't felt the same connect with Tristan that I originally felt while watching her very first audition, until tonight. The video package about her relationship with her grandpa had me wanting to vote for her. (Is it bad to admit I watch and review American Idol, but the last time I voted was for Carrie Underwood in season four? Oops.) Tristan delivers "A Broken Wing" by Martina McBride, and I am reminded about the time I ended up with a broken windshield trying to belt out the last note of that song in my car back in 1998. (I'm not a singer, and I kicked from the passenger seat as a gasped for air. True story.) Jennifer thinks that Tristan has a "perfectly suited country voice" and I love that Keith gives a shout-out to Martina's new album, coming soon.
"I AM DALTON… neurotic, eyeliner, black sheep." Dalton delivers a musical theater-inspired take on "Eleanor Rigby" that leaves me wondering… who? The judges have a complete opposite reaction to mine, while I'm on my couch completely underwhelmed. I think Dalton has what it takes to get to finale night, but I don't feel that performances such as this are what will carry him there.
With five through to the top six, three still remain. Each remaining contestant (Avalon Young, Lee Jean and Sonika Vaid) will be given the opportunity to perform. The judges then decide who is safe, and which two will be sent home.
"I AM AVALON… sneakerhead, hustle, R&B jamz." Avalon has been hit-or-miss with me lately, but her jean jacket look for this number sent me straight to eBay to find one similar for myself. (I found one, along with a Backstreet Boys iron-on patch, if you were wondering.) Avalon gives us "P.Y.T." by Michael Jackson, leaving Keith "confused" how she has ended up in the bottom three two weeks in a row with such a strong connect with the audience. Jennifer would like to see her go "out of your comfort zone" if she remains in the competition, in an effort to connect with viewers at home.
"I AM LEE… baby face, skateboarding, vertically challenged." Out of the remaining three, Lee would be my first choice for elimination, based on previous performances. He sings "Let it Be" and it's actually the most I have enjoyed a performance of his all season. J.Lo wonders if it was "enough" to prove himself, while Harry thinks pitch "was a big issue."
"I AM SONIKA… family, medicine, Indian." Sonika has been one to fly under the radar each week, with a quiet confidence. She brings her everything to Whitney's "I Have Nothing," and Harry feels it was a "high risk/high reward moment." Jennifer knows they have a "hard decision to make" after seeing her performance…
…and the Idol moving on to the top six is: Â  Sonika.
As the curtain closes on Avalon and Lee, we are only four weeks away to finale night.
Who do you think will be battling out for that final crown? Sound off below, or tweet me at @jimbob90210 with your thoughts!! (And please don't judge my twitter handle by my horrible nickname and dream Zip Code!)
American Idol Season 15 Episode 18 Review: "Top 6 Perform"
Summary
Six finalists perform.