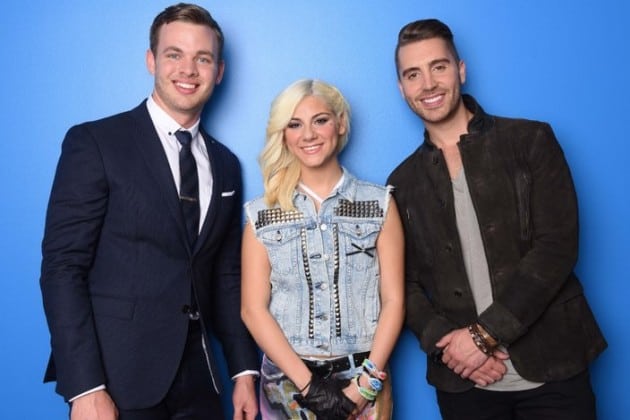 We begin our two-part season 14 finale just days after finding out that next season will be the final year for American Idol. I like that we are going to get a celebratory farewell season, and I like even more that I returned to the party a year ahead of the swan song.
This episode begins as it should, with an immediate elimination. I just think it's horrible to have a contestant sing his/her songs, but end up going home anyway. Seacrest wastes no time in delivering the news: the show is over for Jax, and there's a tiny party inside my head. (I may have screamed and scared my recently adopted stray cat, Joan Rivers.) I don't remember what week it was, and frankly, I'm too lazy to go back and look, but long ago I said I would love to see a Clark Beckham/Nick Fradiani showdown in the finals. Sometimes my reality TV dreams do come true and I get what I want. This will be the showdown of my American Idol dreams.
ROUND 1: CONTESTANT'S FAVORITE OF THE SEASON
Clark takes the stage first and has chosen "Georgia on My Mind." While there's no denying the power of his amazing voice, I just don't have a connection to this song outside of the TV show Designing Women. (I do love me some Sugarbaker sisters.) I feel like Clark should be showcasing his relevance in the world of music today, and I don't think this song does that. Keith thinks it's "a whole mess of flapjacks covered in syrup" and likes the southern, soulful sound. (I like that he used the word 'flapjacks.') Jennifer thinks this performance is better than the first time he performed it, which she didn't think was possible. Harry declares it a great way to start the show.
Nick takes to the stage with a return performance of "Bright Lights." He just commands the stage, and I think he is doing what it takes to take the Idol title. (I still love you, Clark!) J.Lo loves "the voice, the look, the presence" and thinks he just did what needed to be done to take it to the next level. Keith thinks it's important to be more than a great voice with a great performance, but can people relate? Keith says he can.
Jennifer refuses to choose a winner of the first round, and declares a tie. She says it's not a cop-out, despite the pressure from Harry and the audience chanting "YOU HAVE TO CHOOSE!" Um, no she doesn't. She's Jenny from the Block.
ROUND 2: IDOL CREATOR SIMON FULLER'S CHOICE
Clark's second song of the night is "Ain't No Sunshine" by Bill Withers. We have been told all season how the show is hoping to find the next superstar, and I don't think choosing songs like this are helping Clark. If they are trying to market a radio-ready performer, I think choosing a song that would be played on the radio today would have been better for Clark. I can't help but wonder if the odds are not stacked in his favor here. Harry thinks it takes a lot of guts to sing back-to-back ballads, and thinks it's an "inward, soulful" performance. Keith makes a duck joke, and Jennifer asks "Who is she?" that Clark is singing to. (There goes my theory that he was singing to me. How rude.)
Nick takes on Jason Mraz's "I Won't Give Up," and he made that clear early on in the competition. He takes a seat at the piano for the first time this season to show a different side, and it more than works. (Random fact: I love watching him sing out of the side of his mouth.) Â Jennifer thinks the boys are going toe-to-toe this night.
Harry now says it's a tie, but for a different reason than Jennifer; he gives round one to Nick, and this round to Clark.
ROUND 3: WINNER'S SONG
Clark is the first to sing the song that will be his single should he win. His song is called "Champion," and it's a song of encouragement and hope, and I just live for a moment like this. (Please tell me you caught what I just did there.) I get the J.Lo goosies while he's singing. "This is our time, this is our house, this is our moment," he sings… "strong beats the heart of a champion." Harry thinks the boys have a shared disadvantage, each performing a new song for the first time that the audience isn't familiar with. Keith thinks it is an "inspiring" performance.
Nick's song is "Beautiful Life," and I like the fact that each was given a different winner's single. It's clear to me before Nick's halfway through his number that he's our next American Idol. I already see him performing Wednesday night, with confetti cannons blasting around him. (And an unsuspecting Nikki McKibbin crawling from the shadows to Nikki-jack the microphone? Or will she save that for the final finale next year? Don't know what I mean? Revisit the season one finale.) Harry thinks this song sounds as if it were tailored to Nick, and written just for him. (I completely agree.) Keith thinks it's a "bullseye."
While Clark is a "Champion" in his own right, I think Nick will be and should be the Idol. Ryan reminds us to vote, as "both of these faces need your support." Oh sweet Seacrest, I've been supporting these faces since January at their first auditions.
One more episode and our season 14 American Idol will be crowned.
[Photo via FOX]