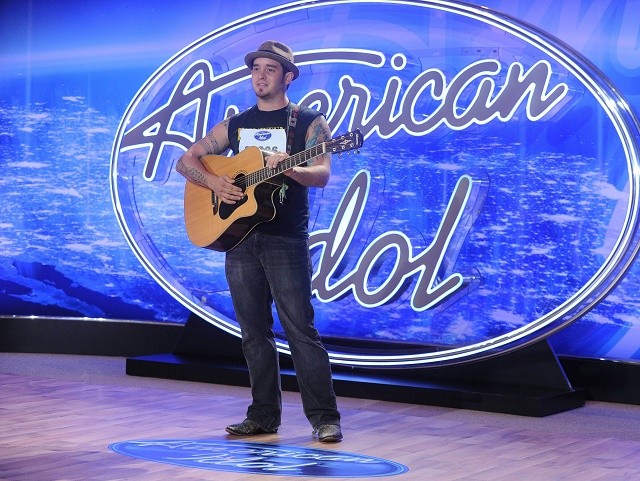 Thursday night we find ourselves rolling back into Denver and Little Rock for more audition fun. We are given more memorable moments from previous seasons, with a "Pants on the Ground" flashback. The unofficial anthem of American Idol… still just as catchy this day as it was back then.
First up, we meet a couple of friends from Provo, Utah, who have decided to audition together. Amber Lynne, 28, is first to audition, while her friend Mark VIII (aka Mark the 8th for anyone who isn't Roman) plays guitar. Jennifer believes she has "a lot of soul." Number Eight is next, as Amber steps to the sidelines. He turns in a performance that prompts Harry to mention that is "refreshing to see people born to do this." It's a golden ticket double whammy, and these two are headed to Hollywood.
Emily Wears, 25, an auctioneer from Solon, Iowa, steps in next. She wows the judges with some serious tongue-twisting skills she learned at auctioneer school. After singing Jo Dee Messina's "Bring on the Rain," the judges aren't exactly blown away. Harry thinks there is "a lot of talent" and calls her a "charming young lady," but there's just something missing. It's a three-way no, and I feel bad for her as the figurative rain begins to fall on her parade. (She did ask for it, though.)
Chris "CJ" Johnson, a 28-year-old professional musician from Memphis, is the next to impress. He seems well-seasoned, and easily wows all three judges. I feel like there's a Top 12 sound to him, and he'll get the chance to show us more in Hollywood.
Ethan Kuntz, a 15 year old from Nashville, AR, brings a surprising rendition of "Stormy Monday" by the Allman Brothers to life. (And up until this second, I seriously thought they were the "Almond" Brothers. Oops.) J.Lo has a case of mild giggles through the performance, and Keith declares him as "such a natural" and "did not expect that voice." Harry thinks he's "just not ready," but luckily, the other two are on his side.
Next up is Mary Williams, 23, an apparent mule whisperer of Belfast, Tennessee. She gives us her take on a Tammy Wynette song, and Keith believes it's "missing the feeling" for that number. Harry and Jennifer give her a yes, and she's through to Hollywood.
During audition rounds in Denver, we get a clip of Ryan Seacrest bringing all three judges cans of oxygen. I've never seen people breathe oxygen straight from the tank like this before, and all I can think of is stories from my East Coast friend involving "whip its" back in the day. (Untold stories from former employees of an ice cream franchise in NYC? Sounds like a delicious expose.)
Xavier Soller, a 26 year old from "Newtown," Kansas, brings a mile high level of enthusiasm to his audition. (For the record- there is no such place as "Newtown" Kansas. I would assume the producers mean Newton, Kansas… which happens to be a stone's throw from my stompin' grounds.) As a current in-game host for the Denver Nuggets, Xavier has no problem amping the people up around him. His singing doesn't match his level of personality, and it's a no from all three. Harry does thank him for "bringing laughter" to the process.
Terrian, an 18 year old who comes from the wrong side of Memphis, describes a neighborhood filled with gangs, drugs, and gunshots. She is extremely positive and upbeat, and brings inspiration to the room. She's such a bright light, I almost forget for two seconds that she doesn't even have a last name. She performs "Happy" (naturally), and Jennifer compliments her "mellow style." It's an easy yes from the judges, and she has found her golden ticket to a better neighborhood.
The next contestant we meet has me a little confused: is this Cara Maria, with blue hair now, from MTV's The Challenge?? Nope… it's just a girl called Blue, a 23 year old travelling "singing nomad" whose goal in life is to "travel and dance around this entire planet."  Blue asks the judges to each pick a word that means something to them, then proceeds to sing an original songs incorporating their names and their words. Harry thinks it sounds like a "Jewish prayer song," and Keith is "glad there's people like you in the world." Jennifer doesn't feel as if American Idol is even the right lane for her. It's three no's, but the judges seem to have enjoyed her spirit. (And I have decided to update my goal in life, and I plan to pack my High School Musical duffel bag and travel the planet spreading cheer, as well.)
Thomas Stringfellow, a 17 year old from Bentonville, AR, is next. I feel like if this were 1995, he would totally be one of the older member of the Mickey Mouse Club. Keith and Jennifer both find him "interesting," and he scores a yes from all three.
Tywan "Tank" Jackson, 29, from Ashtabula, Ohio, bursts onto the screen like a 5-hour energy shot. The dance leader breaks it down on the floor for the judges with a skillfully choreographed number, then decides to slow it down with a Luther Vandross number for his performance. After sweatin' to an oldie, he's rewarded with a yes from each judge, and it'll soon be time for Hollywood to receive its wake-up call… the Tank is coming.
We next meet (again) John Wayne Shulz. The 27 year old from Salt Lake City last auditioned in Season 10, where it came down to he and Scotty McCreery for the final spot. Scotty obviously took that spot, and then went on to take the Idol crown that year, and now John has returned to try again. We learn of the passing of his mom, not long after his original audition, and his American Idol return is fueled with a passion to make her proud. His take on "The Dance" seals his fate, and it looks like it's time for Idol to cowboy up. (Whatever that means.)
I'm not sure, but I think Keith Urban may have just questioned the talent of one Ms. Britney Jean Spears. I'm going to choose to ignore this part, and move on. Otherwise, I would have to delete each and every Keith song from my iTunes library and retire from the business of American Idol reviews four months early. Leave Britney alone.
Jordyn Simone, 15 going on 25, is up next. Keith gets a "good vibe" from her, while Jennifer calls her closer to verify there's a 15 year old in there somewhere. ("She don't sing 15, either.") It's a yes from all three, and she is Hollywood bound.
Jake Dillon, a 22-year-old plumber's apprentice from Sand Springs, Oklahoma, is next on hand. I love everything about this guy. His backwards hat, blue jeans, and t-shirt… with his wife and two kids, and just a sweet story. With his take on a Kenny Loggins number, I feel like he's an easy choice for Top 12. Imagine my surprise when Harry calls him "good," but is looking for "spectacular." I thought it would be an easy yes, hands down. Shows what I know. Jennifer gives a yes, Harry says no, and Keith teeters… then totters to the side of yes. Oklahoma takes Hollywood!
Ashley Lilinoe, a 20 year old free spirit from Hawaii "saunters" into the room next. She turns in a rendition of "Black Velvet" and Keith thinks it's a "great song choice." I feel like her mellow free spirit vibe is a little too forced. If you appear to be trying too hard to be mellow, how mellow are you really? (And that's a deep thought you can ponder until next week.) Jennifer sides with me and says no, but the boys send her and her "island vibes" to Hollywood.
Our last contestants of the night are Andrew Nazarbekian, a 20 year old from Moscow, and Elvie Shane, a 23 year old from Caneyville, Kentucky. Both gentlemen have completely different back stories, but give enough to leave the judges wanting more.
Next week we get our final audition rounds of American Idol, ever. (UNTIL THE REBOOT!) We also will get to see the return of my absolute favorite from last season, Adam Lasher. Join the conversation with me on Twitter, where I welcomed a new follower: ELLIS BANKS!!! (It's the little things in life that bring me joy!) @jimbob90210
[Photo credit:Â Ray Mickshaw/FOX]
American Idol Season 15 Episode 4: "Auditions No. 4"
Summary
Ryan, Jennifer, Keith and Harry search the country for the most talented vocalists as the auditions continue in Denver and Little Rock.